Can You Avoid PFAS in Makeup?
By Amit Rosner and Seth Rojello Fernández | June 29, 2021
Learn more about PFAS in Cosmetics here.
The Institute's recent study finding potentially harmful per- and poly-fluoroalkyl substances (PFAS) in more than half of makeup products tested--most of it unlabeled—received widespread media attention. Now makeup wearers across North America are asking us: How can I avoid PFAS in my cosmetics?
Answering this question is complicated, but we'll try. In short, there are tools you can use to avoid products that do list PFAS ingredients on their labels. However, avoiding unlabeled PFAS will require action from the government and the cosmetics industry.
Here are three things you can do now for healthier makeup:
1. Use Tools Like Clearya to Avoid Labeled PFAS
The study found that a lot of PFAS use in cosmetics is unlabeled, but there are some products that do include them on the label. However, it can be hard to identify PFAS on long ingredient lists cluttered with acronyms, vague words like 'perfume,' and inscrutable ingredients like 'Basic red 76.'
Fortunately, consumers looking to navigate the perplexing world of ingredients on cosmetics labels now have help. Clearya is a free browser plug-in and mobile app that works automatically while consumers are shopping online. When users browse products on Amazon, Sephora, and other online stores, the cosmetics' ingredients are automatically analyzed. As a result, the user is then instantly notified of unsafe chemicals it detects, including PFAS.
To get a sense of how many makeup products have labeled PFAS that this tool can help shoppers avoid, we screened Clearya's database and found nearly 1,000 products from 120 brands that contain at least one PFAS (See Figure 1). Overall, we found 34 different PFAS on ingredient lists, with PTFE (aka Teflon) being the most common one. Many personal care products had more than one PFAS, such as a pore-cleaning foam that contains six different PFAS!
When consumers use Clearya, they add to the growing database of healthier alternatives and they send a signal to the cosmetics industry that they value transparency and safer products without PFAS and other harmful chemicals. Other tools such as the Institute's PFAS-Free List and EWG's Skin Deep are also helpful.
2. Support the No PFAS in Cosmetics Act
The problem of unlabeled PFAS lurking in cosmetics is one that needs a policy fix. Fortunately, Sens. Susan Collins, Richard Blumenthal, Dianne Feinstein, Kirsten Gillibrand, Maggie Hassan, Angus King, and Jeanne Shaheen recently introduced the bipartisan No PFAS in Cosmetics Act to ban all PFAS from makeup and other personal care products. Reps. Debbie Dingell, Brian Fitzpatrick, Annie Kuster, and John Katko introduced the same bill in the House.
Thanks to the advocacy group Breast Cancer Action, you can fill out a simple form to urge your representatives to support this important bill.
3. Ask Your Favorite Brands to Commit to PFAS-Free Products
Legislation can take a long time, so it's also important to motivate the industry to start moving away from PFAS before then. Some European brands, like H&M and IDUN Minerals, have already committed to not using any PFAS in their cosmetics.
You can ask your favorite beauty brands to publicly commit to not using PFAS by tweeting at them or emailing them (look for a "Contact Us" page on their website). If you get a response, let us know at [email protected].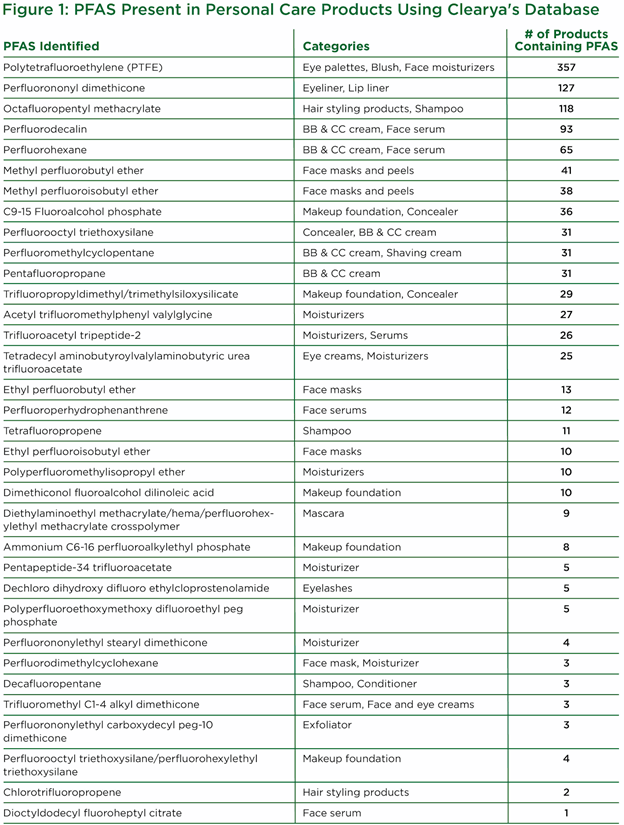 Amit Rosner is the Co-Founder of Clearya. Seth Rojello Fernández is a Science and Policy Fellow at the Green Science Policy Institute.