Communications Strategy
For impact, scientific research must reach decision makers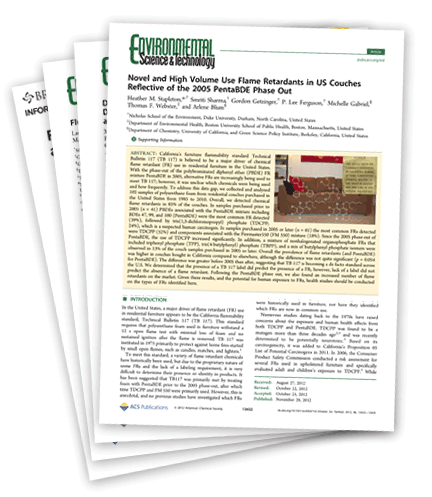 Since 2011, we have worked with academic and NGO collaborators to effectively communicate and increase the impact of our peer-reviewed scientific papers. We have developed a unique communications strategy so that our publications reach a wide audience. Some have been viewed by tens of thousands of readers, enabling our research to effect positive changes in policy and purchasing.
Our case studies provide examples of how our Institute's scientific research, communications strategy, and partnerships with manufacturers have contributed to eliminating or reducing the use of flame retardants in furniture and baby products, PFAS in carpeting, PFAS in cosmetics, and PFAS in food packaging.
Altmetric, a media monitoring service, reported:
Papers we have helped publicize have scored in the top 5% of all research output.
Our joint paper on PFAS in cosmetics received the highest score of any paper published in Environmental Science and Technology Letters.
Our strategy includes selecting research topics with clear and important policy relevance, collaborating with experts from multiple institutions, choosing an optimal release date, and composing a press release in accessible language with a "hook" to attract attention.
Now we want to share our strategy with as many scientists as possible. Below you will find resources and short videos to help you increase the reach of your scientific research.
Science Communication Resources
Resources to help you better communicate your research and effect positive change:
Our Communications Plan Worksheet walks you through the steps of coordinating with the journal and communications partners, honing important and newsworthy messages, and doing press outreach (PDF).
Our Press Release Template maps out a good structure for a scientific press release. It models embargo language and gives advice for effective headlines, quotes, and content placement.
Our Embargo Tip Sheet is a guide for the critical step of setting a publication date so that you can share your paper under embargo with trusted reporters in advance. Learn when and who you need to contact, and what to do in case something goes wrong.
Science & Communication Strategy Workshop Talks