Environmental injustice
March 29, 2013
Vulnerable communities bear higher burdens of flame retardants
A recent study of Mexican-American children in California found that those who live in areas with little access to safe outdoor play spaces tend to have higher levels of the toxic flame retardant chemicals known as PBDEs in their blood. The study, conducted by researchers from the Center for Environmental Research and Children's Health and the University of California, Berkeley, suggests that children who spend more time indoors may have higher exposures to household dust containing flame retardants. Flame retardant chemicals enter our bodies primarily by hand to mouth contact with contaminated dust, as the chemicals continuously migrate from products and settle into dust.
Learn more about flame retardants as an environmental justice issue
Thanks to a grant from The San Francisco Foundation, Green Science Policy Institute has produced a tool-kit for environmental justice groups interested in learning more about about flame retardants, reducing exposure, and policy changes to reduce toxics.
The kit provides more in-depth information on the disproportionate burden of flame retardant chemicals in low income communities, how to reduce home exposures, and how to support policy change that will address the root causes of the flame retardant and toxic chemical problem: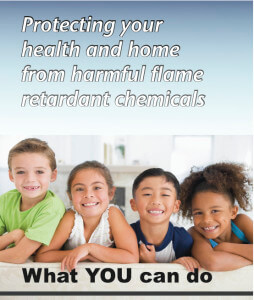 Pamphlet: Protecting your health and home from harmful flame retardant chemicals
Download the entire toolkit (2.4 MB)
The UC Berkeley study is the most recent in a growing body of data showing higher concentrations of flame retardants in vulnerable populations, including workers, low-income and people of color, especially children in California. This may be due to a number of factors including:
Homes with older furniture containing banned flame retardants
Smaller homes with poorer ventilation
Residential activity patterns, physical and social characteristics of communities
Occupational exposure of workers in professions such as:

Chemical manufacturing
Manufacturing and recycling of products containing flame retardants
Construction, computer technicians, carpet installers and others who intensively handle products containing flame retardants
Community locations near industrial and contaminated sites
We need to work together for policy change to impact this problem
A recent study of diverse low-income pregnant women in New York revealed lower levels of PBDEs than previously found. The authors suggested that policy changes restricting the manufacture, sale and use of PBDEs have helped contribute to lower levels in this population.
Together, we can achieve policy change that will help to address this issue – learn more about what you can do on our Consumer page.

Read more about flame retardants' impact on low-income communities of color and how California's new proposed furniture flammability standard, TB117-2013, will benefit both health and fire safety in Environmental Health News.