Guidance on New PFAS Reporting Rule for Manufacturers
By Hannah Ray | September 2, 2021
In the last 10 years, have you manufactured, processed or imported products containing per- and polyfluoroalkyl substances (PFAS)? If so, be aware - the Environmental Protection Agency (EPA) may soon require a detailed report.
In June 2021, the EPA, under the Toxic Substances Control Act (TSCA) proposed a new rule that would require industrial users of PFAS to submit a one-time comprehensive report on all PFAS manufactured or imported since January 1, 2011. Information required in the report would include: PFAS names, structures, quantities, uses, byproducts, environmental and health impacts, worker impacts, and disposal. This rule will enable the EPA to better characterize the sources and quantities of manufactured PFAS in the United States.
The EPA is soliciting comments on the proposed rule until September 27, 2021. The EPA will publish a rule before January 1, 2023. Reports will be due within 6 months after the rule is published.
Our PFAS experts at the Green Science Policy Institute would like to raise awareness of this proposed reporting requirement, and to share practical advice with affected manufacturers. Although fulfilling the reporting obligations for the proposed rule will take time and effort, it represents a step in the right direction in managing the human and environmental risks associated with all PFAS as a class.
What are PFAS?
The proposed rule's definition of PFAS is given below. EPA has identified at least 1,364 compounds that fall under this definition, and the proposed rule provides several lists of these compounds.
"PFAS... contain the unit R-(CF2)-C(F)(R')R" where both the CF2 and CF moieties are saturated carbons and none of the R groups (R, R' or R") can be hydrogen."
Many PFAS are chemicals of concern for human health and the environment. Due to the nature of their strong carbon-fluorine bonds, they persist in the environment, some can bioaccumulate, and certain well-studied PFAS have been linked to serious health harm. PFAS have been detected in drinking water supplies across the U.S., and in 99% of Americans' blood. For more background, you can watch our brief video introduction to PFAS.
Why is the EPA doing this?
The National Defense Authorization Act of 2020, Section 7351 requires the EPA/TSCA to call for data on PFAS. The amounts, types, and lifecycle impacts of PFAS currently are not well documented or regulated. The new rule would enable EPA to better characterize the sources and quantities of manufactured PFAS in the United States.
Who needs to report?
Anyone, including small businesses, that has manufactured or imported PFAS substances or articles containing PFAS, or manufactured PFAS as byproducts, would be required to report under this rule. The rule specifically includes PFAS as part of an "article," such as surface coatings. The proposed rule states:
"TSCA does not define articles, nor does the statute define articles as a category of substances exclusive of chemical substances. EPA therefore considers its ability to regulate chemical substances to encompass authority to regulate articles containing such chemical substances."
The proposed rule is unusually broad for TSCA. With the inclusion of small businesses, importers, and PFAS as part of an article, the EPA should expect to be receiving information from thousands of businesses that may never have interacted with TSCA before.
Affected industries and products
The properties of PFAS, including temperature stability, friction reduction, water repellency and oil repellency, make them useful for many applications across industries. A recent study (Gluege et al, 2020) systematically compiled uses of PFAS, using a similar structural definition to the EPA rule, and estimated that over 1400 individual compounds are used in 21 industry branches and 43 other use categories, for over 200 different uses. A summary table from the study is given below.
If your product or process relates to the list in the summary table, you should plan to closely read the proposed EPA rule, and consider how to interrogate your products and supply chains for PFAS. In many cases, complex goods manufacturers specify brand name materials in their components, and don't have specific information about chemical compositions. You may be using materials that contain PFAS and not be aware of it. To comply with the proposed rule from the EPA, it will be important to find out this information from your supply chains.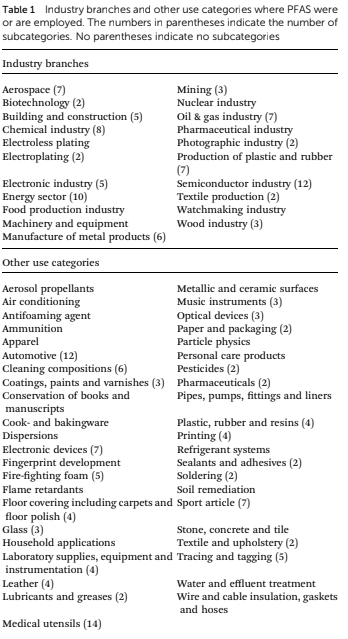 Who doesn't need to report?
The rule excludes manufacturers of products regulated under the Food and Drug Administration, pesticides regulated under the Federal Insecticide, Fungicide, and Rodenticide Act, materials regulated under Atomic Energy Act of 1954, or articles taxed under the Internal Revenue Code 4181 (firearms related).
What does the rule say?
The rule would require manufacturers or importers of a chemical substance that is a PFAS (as a substance, or as part of a mixture or article) to report the following information for each year since 1/1/2011 (per TSCA section 8(a)(2)(A) through (G)):
(A) The covered common or trade name, chemical identity and molecular structure of each chemical substance or mixture
(B) Categories or proposed categories of use for each substance or mixture
(C) Total amount of each substance or mixture manufactured or processed, the amounts manufactured or processed for each category of use, and reasonable estimates of the respective proposed amounts
(D) Descriptions of byproducts resulting from the manufacture, processing, use, or disposal of each substance or mixture
(E) All existing information concerning the environmental and health effects of each substance or mixture
(F) The number of individuals exposed, and reasonable estimates on the number of individuals who will be exposed, to each substance or mixture in their places of work and the duration of their exposure, and
(G) The manner or method of disposal of each substance or mixture, and any change in such manner or method.
What short-term actions should you take?
Read the proposed rule. Take notes. Identify obligations, and document the internal approvals, time, and funding you will need to accomplish them. Write down the challenges you foresee and how you plan to overcome them.
Work with your preferred industry group to compose comments. Submit them before Sept. 27, 2021.
You will have to use the EPA CDX tool for data entry. Check to see if your environmental compliance data management systems can interface with CDX. If not, data entry may be manual.
EPA is requesting information from small manufacturers on how they may assist with compliance. Include any recommendations in your comments.
"When preparing and submitting your comments, see the commenting tips at http://www.epa.gov/dockets/comments.html."
Moving forward, add PFAS to the list of disclosable substances that you require suppliers to provide information on. While this rule is only a one-time obligation, we can expect that once the EPA analyzes the information it will result in ongoing disclosure or restriction obligations.
What long-term actions should you plan?
Keep an eye on the trend toward regulation of PFAS as a class. Businesses with a global presence may already be aware of the European Chemicals Agency restricting individual PFAS compounds and their July 2021 announcement of the intention to restrict PFAS as a class. In the United States, individual states are passing restrictions on PFAS in drinking water and individual products. Safer States has an up-to-date list of state-level regulations on PFAS. This summer, the state of Maine passed a ban on all PFAS in all products starting January 1, 2030.
With this in mind, in the long term it would be prudent to:
Identify and closely track PFAS in the products you make or import
Evaluate their function and remove unnecessary PFAS wherever possible
Innovate safer alternative materials or system designs to remove the need for PFAS in your products
Product manufacturers and designers have an important role to play in protecting the planet and its inhabitants from harmful substances. Although reducing PFAS use will be a challenge, it is the right thing to do - and it can be a collaborative effort. For example, footwear company KEEN shared how they got PFAS out of their shoes in this blog post and invited the rest of the industry to join them. As you make progress toward reducing PFAS use, celebrate each step and share your successes along the way!
---
Credit: Michael Kirschner of Design Chain Associates supplied useful ideas for short-term actions businesses can take to prepare for this rule.