Ten years later, flame retardant ban good news for baby
September 25, 2013
A new study published today in Environmental Science & Technology has some good news for a change. The authors found dramatic declines in the levels of toxic flame retardants in pregnant women's blood in San Francisco.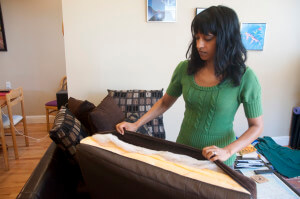 The flame retardants in question, certain kinds of polybrominated diphenyl ethers (PBDEs), were banned in California about ten years ago, and phased out nationwide around the same time because of health and environmental concerns. The levels in pregnant women are of particular interest because PBDEs are thought to harm the baby's developing brain, resulting in problems such as lower IQs and hyperactivity in children.
One of the major uses for PBDEs was in furniture foam to meet California's furniture flammability standard, TB117. After the PBDE ban, we found a proliferation of other flame retardants used in furniture to meet this standard. Some of these chemicals are now listed as carcinogens or associated with concerns like obesity and anxiety.
But in more good news, the TB117 standard is on course to change in January, 2014, for better fire safety without the need for flame retardant chemicals. Dr. Tracy Woodruff, PhD, MPH, director of UCSF's Program on Reproductive Health and the Environment, and the study's senior author noted:
"What that means is that when California enacts the new flammability standard, there will be an opportunity for reductions in other flame retardants, many of which we may not even know about because there is a lack of data on their use and potential human health effects."
While the study highlights the fact that chemical regulations really can work and have important impacts on public health, the bad news is that the recent lower PBDE levels found in the California women are still higher than in many other parts of the country. Furthermore, the authors predict that after this initial steep decline, PBDE levels will likely plateau and then persist for decades to come. This is because PBDEs, similar to polychlorinated biphenyls (PCBs) that were banned in the '70s, do not break down in environment, and can build up in the food chain. Almost 40 years after PCBs stopped being made and used in the US, they are still present in most people and the levels do not seem to be declining much.
Read more about the study: