April 2020 : Post-Pandemic World, A Better Place?
In this edition: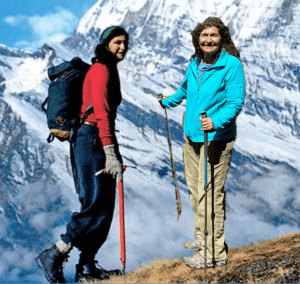 Hope you are keeping well during this challenging time. At our Institute, we are all busy working online and discussing what we can do to make the world healthier and more just after the pandemic.
This month marks the 50th anniversary of Earth Day. In honor of the celebration, California Secretary for Environmental Protection Jared Blumenfeld interviewed me for his popular Podship Earth. We talked about the similar vision and persistence needed for both climbing the world's most challenging mountains and our Institute's work reducing chemical harm to human and ecosystem health. You can listen to our conversation by clicking the image above of me 43 years ago on the way to Annapurna and now. (I will also be speaking on this topic at Mountainfilm 2020 online in May along with over 100 films and presentations. More information below.)
A 72-hour long livestream in honor of Earth Day included a Dark Waters followup with Rob Billot and Mark Ruffalo.
The New York Times featured an excellent article, "What's Better Today and What's Worse" after 50 years of Earth Days. Wins for the American environmental movement include cleaner air and the ban on DDT, while climate change and weak chemicals policy are increasing threats.
The coronavirus pandemic has focused attention on creating a more just and resilient world. "Since we must rebuild our economies, we need to try to engineer out as much ecological havoc and inequality as we can-as much danger as we can," wrote Bill McKibben in the New Yorker.
Building a hardier post-pandemic world includes reducing toxics. In a notable op-ed for Environmental Health News here, Jerrold Heindel and Linda Birnbaum explain how harmful chemicals in our everyday lives are contributing to diseases that increase susceptibility to coronanvirus . These chemicals include the Six Classes.
Our annual Six Classes Toxics Reduction Retreat next week is virtual for the first time. Please write to [email protected] if you'd like to listen to the talks following the retreat. The 2020 topics and distinguished speakers are:
Antimicrobials in the Time of Coronavirus (Ted Schettler, Anne Cooper-Doherty, Rolf Halden)
Petrol, Plastic, Poisons (Marty Mulvihill, Dianna Cohen, Ken Alex)
PFAS and the Class Concept (Linda Birnbaum, Therese Lilliebladh, Bjorn Hansen)
Finally, for those of you planning on attending this year's Himalayan Fair, please note that it's been rescheduled to October 3-4, 2020. I hope to see many of you then.
Warm regards,
Arlene and the Green Science Policy team
P.S. Please remember to register to vote and encourage others to do so. Participation is more critical than ever for our health and democracy. To learn more about voting from home, especially important now, check out the excellent website VoteAtHome.org and consider supporting this effort.
Good News and Bad News About Carpets
by Rebecca Fuoco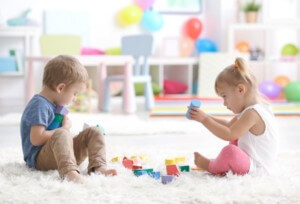 From crawling at home to circle time at school, young children spend a lot of time on the floor. Carpets and rugs can make floors more comfortable, but we also want to make sure they're safe.
First, the bad news. Our peer-reviewed study with Indiana University, published this week, found that children can be exposed to a toxic medley of PFAS from carpets and floor dust. These chemicals have long been used to make carpets and rugs stain- and soil-resistant.
We detected significant PFAS concentrations in carpet and dust samples from 18 California childcare centers in 2018. Because PFAS in carpets and dust collect on kids' hands and toys, which they put in their mouths, we estimated substantial levels of PFAS intake via dust ingestion for the children. Not all of the PFAS we measured in dust necessarily came from carpet-other sources like cleaning products or weather-proof clothing could have contributed as well.
The good news? Daycares, schools, and families can reduce exposure by swapping out older carpets for new ones. We have been sharing the current science around PFAS with many carpet manufacturers, and most recently stopped using PFAS. As of January 1, 2020, The Home Depot and Lowe's have phased out carpets and rugs with PFAS.
"With PFAS-free carpets more available, schools and families can replace older carpets and protect children's health from exposure to these dangerous and long-lasting chemicals," said our Senior Scientist Tom Bruton.
To learn more, check out our press release or the full study.
Where Does Your Sushi Come From?
by Caroline Clarke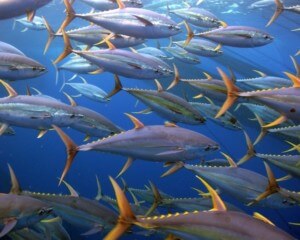 Although excellent for health, fish are unfortunately a major source of persistent organic pollutants (POPs) in the human diet. POPs are associated with health problems including cancer, immune system suppression and impairments in neurobehavioral function. Innovative research by Sascha Nicklisch of UC Davis and Amro Hamdoun of UC San Diego investigated whether the origin of wild caught fish can affect the levels of POPs we are consuming.
The study tested POPs in the muscles of wild yellowfin tuna caught from 12 different locations across the globe. The researchers selected for pollutants known to bioaccumulate in humans, including nine brominated flame retardants, 209 PCBs and 29 organochlorine pesticides. Since yellowfin tuna is among the least migratory fish, the researchers were able to create a snapshot of the level of pollution based on the location of the catch.
Results showed that wild tuna caught near more industrialized places, like the coastal waters of West and Southeast America and Northeast Africa, had on average more than 36-fold higher levels of POPs in their muscles than fish caught in the more pristine waters of the West Pacific Ocean. The total POP levels among all studied tuna varied by a remarkable 880-fold!
Given the dramatic differences in pollutant levels, this study shows how important capture location is when assessing the risk of human exposure to POPs from eating wild fish. To keep enjoying your sushi while limiting your exposure to harmful chemical classes, check the label or ask the chef where the fish was caught.
This work was inspired by Ronald Hites' notable research finding that farm-raised salmon had much higher levels of pollutants than wild salmon. This study triggered an international campaign so that now fish and shellfish are labelled as either "wild" or "farm-raised".
California Wildlife Doing Well During Shutdown
by Seth Rojello Fernández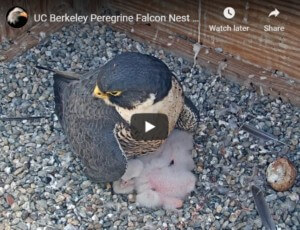 As Jeff Goldblum famously said in Jurassic Park, "life always finds a way." This is particularly true for California's wildlife during the coronavirus shutdown. From bears in Yosemite to coyotes taking a stroll under the Golden Gate bridge, wildlife is not only finding a way — it's thriving.
Last week, I was delighted to watch an exciting live stream of the moments when three peregrine falcon chicks hatched from their eggs on top of UC Berkeley's historic Campanile. You can now watch the parents feeding the hungry chicks by scrolling back on YouTube. So inspiring to see the fluffy babies, considering these magnificent birds were nearly wiped out by the pesticide DDT in the 1970s. Thanks to a ban on DDT and captive breeding programs, peregrine falcons have bounced back.
This falcon success story demonstrates that we can turn things around with a concerted effort. And during this pandemic is certainly a time when such efforts are needed to preserve both our own health and that of our planet.
Balancing Health, Fire Safety, and Circularity in Europe
by Rebecca Fuoco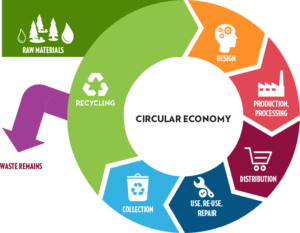 European furniture manufacturers, environmental groups, and firefighters united this month in calling on the EU to follow California and the US in stopping the use of toxic flame retardants in furniture.
The Alliance for Flame Retardant Free Furniture's position paper explains how flame retardants in furniture interfere with the EU's circular economy goals while endangering public health. "The use of toxic flame retardants is a historical, hazardous, and ineffective practice which is not proven to decrease the number of fires," their press release states.
The European Commission's groundbreaking Circular Economy Action Plan focuses on keeping valuable materials and resources available in the EU economy for as long as possible. To achieve this worthy objective, chemicals that may cause harm in recycled materials (like most of those in our Six Classes) should not be used in the first place. The idea is to prevent flame retardants from furniture foam being recycled into carpet padding, or flame retardants in electronics making their way into black plastic spoons, etc.
The paper notes that adding flame retardants to furniture jeopardizes that objective. "A value chain approach from material sourcing to production, use and end-of-life, is needed to avoid and remove toxic substances in support of a cleaner and more efficient circular economy."
To address the problem, the Alliance recommends harmonizing flammability standards for furniture across Europe, including the UK, with California's TB117-2013. They are also calling for regulation of whole classes of chemicals under the European chemical regulation called REACH rather than regulating individual chemicals one at a time.
CALENDAR
May 15 to 25, 2020: Mountainfilm 2020
The Mountainfilm festival is online this year with a theme of VISIONARIES. Speakers, films and artists will focus on the most pressing social and environmental issues in order to inspire audiences to create a better world. Arlene Blum will be speaking about Mountains and Molecules and in conversation with local Colorado environmental community leader Liz Rosenbaum.
Where: Online
Register: A $75 pass will allow you to view to over 100 inspiring films and presentations and single events are $10 each at mountainfilm.org
October 3 to 4, 2020: 37th Annual Berkeley Himalayan Fair
Please note the new date.
Enjoy the food, music, dance, crafts, and arts of the Himalayas. Profits to Himalayan charities. Where: Live Oak Park, 1300 Shattuck Avenue at Berryman, North Berkeley.
More information at https://himalayanfair.net/
October 28, 2020: CWEA PFAS Summit, Reno, Nevada
Arlene Blum will keynote the PFAS Summit at California Water Environment Association (CWEA) Annual Conference. Her talk is entitled: "PFAS: What It is, What It Comes From, Where It's Found and Its Dangers"
When: 10:00am
Where: Reno-Sparks Convention Center, Reno, NV
Receive Updates By Email
Subscribe to our monthly newsletter and get these updates delivered right to your inbox!