April 2022: The Biggest Best Ban
In this edition: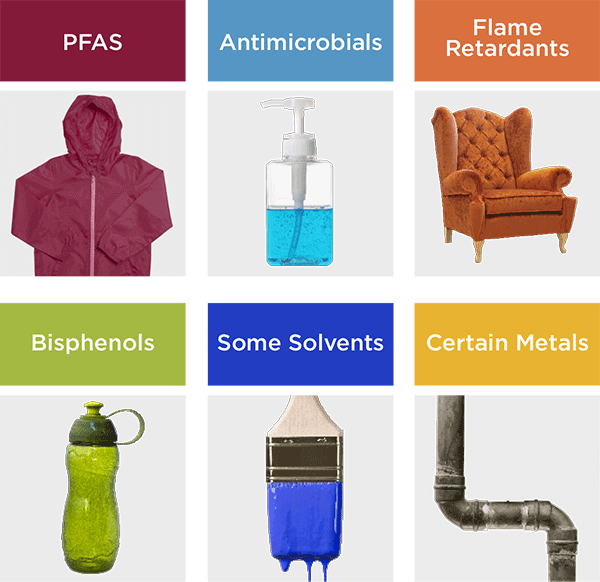 A decade ago, our Institute and colleagues began promoting the class concept—the idea of grouping and managing similar harmful chemicals in classes, rather than dealing with problematic chemicals one at a time. This week, in the biggest and best application of the class concept to date, the European Commission has announced their restrictions roadmap towards banning all flame retardants, all PFAS, all bisphenols and about 2,000 other harmful chemicals. According to an article in the Guardian, this is the "largest ever ban on dangerous chemicals."
Such good news that the EU is leading the way towards a toxic-free environment. We invite business, government, and consumers alike to watch our short informative Six Classes videos and learn more about the class concept and avoiding harm from six families of harmful chemicals commonly used in everyday products.
Meanwhile, our colleagues at the Ecology Center found that about half of the U.S. children's car seats they tested still contain flame retardants to meet an outdated federal flammability standard. Harmful chemicals are especially common in the less expensive brands; all car seats costing less than $100 contained flame retardants and/or PFAS. This means children from lower-income households may be more exposed to toxic chemicals. Please consider signing a petition urging the Department of Transportation to update their standard and read more in the blurb below. And stay tuned for the results of Duke University and our Institute's study of flame retardants in cars.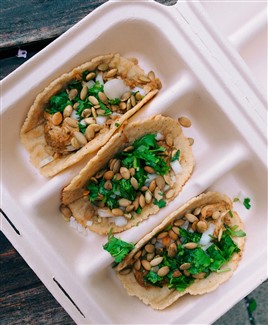 Following on from our similar study in 2017, a new investigation by Consumer Reports found PFAS in about half of food-packaging products tested, including wrappers from popular fast-food chains. However, brands that had already committed to phasing out PFAS had lower levels than those that had not—a hopeful sign of progress.
Right after publishing our food packaging study in 2017, we held a workshop with industry, scientists, government, and representatives from the supply chain. Innovators started developing more sustainable food packaging without PFAS and such efforts are now coming to fruition. The states of Washington, Maine, Minnesota, New York, and California have passed bans on PFAS in food packaging, and eight other states as well as the US Congress are currently considering such legislation.
Are you a sustainable chemistry expert and want to inform policy? The U.S. Office of Science and Technology Policy is in the process of creating a definition of sustainable chemistry to guide federal policies, initiatives, and funding. They are seeking input from stakeholders until June 3, 2022.
Please consider joining me May 21 & 22 for the Annual Berkeley Himalayan Fair in Live Oak Park, 1300 Shattuck Avenue at Berryman, down the block from our North Berkeley office. More information is in the calendar below and please get in touch with me if you'd like to help out with the Fair.
I hope you are enjoying the spring.
Kind regards,
Arlene and the Green Science Policy Team
Why are Flame Retardants in Children's Car Seats?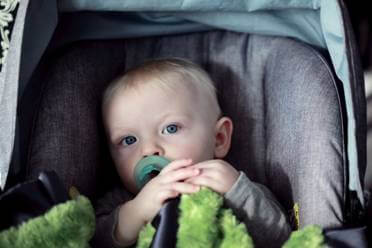 By Lydia Jahl
The Ecology Center, our Institute, and others have been working for years to change regulations leading to the use of toxic chemicals in children's car seats. Despite recent progress, a All children deserve healthy car seats report from the Ecology Center revealed that more than half of tested car seats still contain harmful chemicals such as PFAS and flame retardants. These chemicals can concentrate in dust, exposing children and adults.
The Ecology Center found that 21% of tested car seats had fabrics containing elevated levels of organic fluorine, which indicates PFAS usage. At our Institute, we believe that the potential health and lifecycle harm of PFAS are not worth the small convenience of having waterproof or stain-repellent fabrics. Also, our research is showing that the PFAS may not work as well as intended in preventing stains.
Flame retardants are used in children's car seats to meet US Federal Motor Vehicle Safety Standards 302 (FMVSS 302). This outdated standard has not been demonstrated to provide a benefit in increasing the fire safety of children's car seats. Harmful flame retardants which can end up inside infants and children are used to meet FMVSS 302.
The standard can be better met with flame resistant fabrics rather than toxic chemicals. However, flame retardants are more affordable than expensive fabrics, so less costly car seats usually contain these harmful chemicals. Thus, children from lower income households may have higher levels of exposure. The Ecology Center's testing revealed that 55% of tested U.S. seats contained an array of flame retardants. Car seats from the EU had much lower levels of flame retardants because of their different flammability standard.
Children's car seats are necessary for safety, but they need to be free of harmful chemicals and affordable. To find out which car seats do not use PFAS or flame retardants, read Ecology Center's full report here, and show your support by signing their petition.
From Beagles to the Bay—Pet Pesticide Pollution (Updated)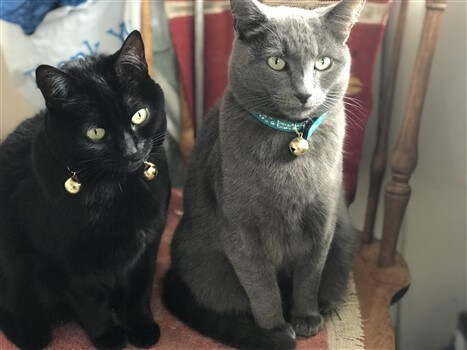 By Alexa Reynoso
We want our pets to be healthy, but could something that keeps them well be harming ecosystems? Many flea treatments such as Frontline and PetArmor contain pesticides called Fipronil or Imidacloprid that may be harming the food web in the San Francisco Bay, according to scientists at the San Francisco Estuary Institute (SFEI).
The pesticides get on our hands and laundry, and when we wash them (or our pets), they head down the drain to wastewater treatment plants, and eventually end up in sediments at the bottom of the bay. According to Rebecca Sutton of SFEI, "that's the base of our food web. So, if those critters experience impacts, it could go up and harm our fish and our wildlife."
An SFEI study found Fipronil in all tested sewage treatment plants at concentrations above the U.S. EPA's recommended limit for aquatic ecosystems. Imidacloprid was also found at levels between 84 and 305 parts per trillion, well above the limit of 10 parts per trillion. A UK study also found a high environmental risk to UK aquatic ecosystems from Fipronil.
To protect both your pet and the environment, it's best to avoid topical flea treatments. A good alternative is to ask your vet for a prescription oral flea tablet (e.g., NexGard, Simparico, Credello). These are typically given once monthly and are very effective. To reduce the risk of fleas in the first place, you should vacuum your home and your pet's bedding often (and empty the bag) See more tips for pet owners and veterinarians from Bay Area water agencies.
Stopping PFAS: How Best to Test?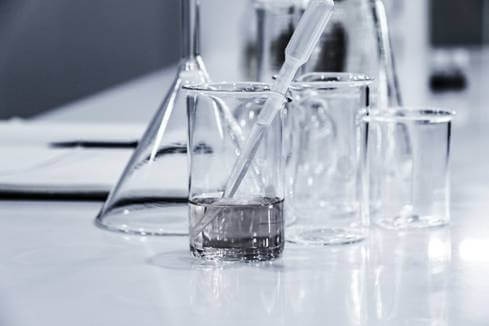 By Carol Kwiatkowski
Governments and businesses large and small are making commitments to address PFAS in consumer products and environmental media such as industrial wastewater. For example, policy makers from Scandinavia, Germany, and the Netherlands are working towards a broad restriction for PFAS in products. Reproducible analytical methods are needed to monitor and enforce such commitments and restrictions.
A new report issued by the Nordic Council of Ministers,"Analytical Methods for PFAS in Products and the Environment" reviews analytical methods for PFAS in different matrices. The report covers seventeen product categories, such as textiles, food packaging, cosmetics, medical devices and medicines, electronic equipment, flame retardants and fire-fighting foams, refrigerant gases, and waste treatment.
The literature review spans well-established standardized methods such as those that exist for a subset of individual PFAS, to purely experimental approaches. Many tests fall in between, such as measurements of total fluorine (e.g. total organic fluorine, extractable organic fluorine) that are in varying stages of method development. For each matrix category, pros and cons of different methods are described.
This report raises awareness of the wide variety of methods available to measure PFAS in products and the environment, which we hope will spur rapid implementation of emerging policies to reduce PFAS. Although this is a technical topic, non-scientists can appreciate the readability of the report, the description of current PFAS bans and restrictions worldwide, and the short Summary section with conclusions for each category.
Breathe Easy with Better Building Products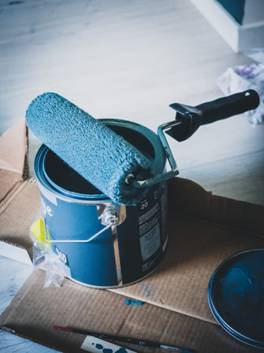 By Hannah Ray
By choosing safer building materials, you can minimize your exposure to toxic chemicals. Products containing solvents, like paints, sealants, waxes, adhesives, furniture, cleaners, aerosols, and others can release volatile organic compounds (VOCs) into the surrounding air. Breathing in many of these VOCs is harmful. Additionally, some semi-volatile and nonvolatile chemicals escaping from products to our indoor environment can also harm our health.
You might have noticed some zero- or low-VOC product labels. Unfortunately, as described in a recent blog post from the Healthy Building Network (HBN), products with such labels can still contain harmful chemicals. This is partially because there are a number of different definitions of VOCs. For example, the U.S. Environmental Protection Agency's definition is only focused on ozone forming VOCs.
So how do we choose safer products?
When looking for low-VOC products, the HBN article recommends relying on certifications such as SCS Indoor Advantage Gold Certified; ClearChem; Intertek Certified Clean Air Gold; or GREENGUARD Gold. These certifications use the California Department of Public Health Standard Method v1.2 that requires measuring and limiting the emissions of 35 VOCs known to cause chronic health effects.
In order to minimize our exposure to all harmful chemicals, we need "fully disclosed and fully assessed" products. "Fully disclosed" means all product ingredients are characterized, screened and identified to 100 parts per million (ppm). For building products, Health Product Declarations and Declare Labels are standard tools for reporting product contents. "Fully assessed" means that all contents of a product have been screened with a hazard assessment tool, such as GreenScreen, Cradle to Cradle, or ChemFORWARD. However, "fully disclosed and fully assessed" products are not currently the norm. We need to collectively put pressure on manufacturers to disclose and assess all their ingredients.
Our Material Buyers Club, a group of large institutional purchasers, is working together since 2014 to decrease the use of harmful chemicals for healthier workplaces. The Buyers Club is currently engaging sealant manufacturers to increase transparency and optimize their product ingredients. Stay tuned for updates.
When full disclosure and assessment is unavailable for a product, check out the HBN Product Guidance tool based on HBN's extensive research and watch our short videos summarizing the six classes of chemicals to avoid in products.
Our Institute in the News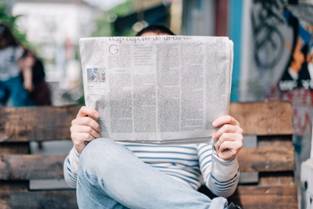 By Rebecca Fuoco
Starting with this newsletter, we'd like to share news articles, blogs, podcasts, newsletters, and more that have featured our work and expertise in the past month.
Calendar
May 1, 2022, 10:30am Pacific:
Breaking Trail: Mountains & Molecules
Arlene Blum will speak about her mountain and scientific adventures at the Oakmont Sunday Symposium series based in Sonoma, California. You can join the Zoom session here.
May 10, 2022, 1:30-2:30pm Pacific:
Red List in Action: Movement Building to Eliminate Unnecessary Forever Chemicals
This virtual session connects voluntary and regulatory actions to restrict PFAS, manufacturer-led initiatives and design and specification decisions working in tandem to enable safer chemistry and more equitable health outcomes. Our scientist Hannah Ray will give a talk.
May 21, 2022, 9:00am Pacific:
University of San Francisco Commencement Address Saint Ignatius Church, University of San Francisco
Arlene Blum will receive an honorary doctorate and deliver the commencement address to University of San Francisco graduates receiving degrees in the Humanities and Sciences from the College of Arts and Sciences.
May 21 & 22, 2022:
Annual Berkeley Himalayan Fair
Live Oak Park, 1300 Shattuck Avenue at Berryman, North Berkeley
Enjoy the food, music, dance, crafts and arts of the Himalayas. Profits to Himalayan charities. Contact [email protected] if you'd like to volunteer to help out at her booth under the big tree northeast of the stage. Please do stop by her booth to say hello and enjoy the Himalayan entertainment. More information about the Himalayan Fair is here.
Receive Updates By Email
Subscribe to our monthly newsletter and get these updates delivered right to your inbox!