December 2021: Chanukah, Christmas, & Chemicals
In this edition:
I just enjoyed a family Thanksgiving and also Chanukah with my daughter who visited from Washington, D.C. Wherever you are in the world, I hope you are able to reunite with your friends and loved ones during this holiday season.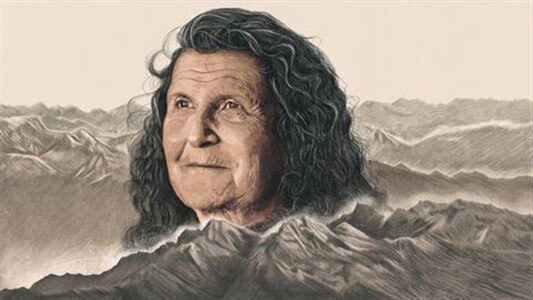 I've recently had the pleasure of being interviewed by U.K. media about how a determined team with a shared vision can succeed in both climbing the highest mountains and protecting the world from toxic chemicals. I talked to Chemistry World, Technology Networks, and BBC Radio. The latter program revealed "how experiences in one area of our lives can help us excel in another, building resilience and bold thinking." I also discussed PFAS with The Lancet, a prestigious British medical journal— it's good that more physicians and medical researchers are becoming interested in these forever chemicals.
As we get ready to ring in the new year, let's celebrate that 2021 was a record year for action on PFAS. Since cleaning up PFAS from our environment is difficult, expensive and often impossible, we must reduce the whole class of PFAS at its source—in products. In support of phasing out PFAS worldwide, we are convening scientists and legislators from the European Union, Canada, and the US States and Congress who are proposing legislation to stop the use of PFAS in products. By sharing their challenges and strategies, participants can help one another succeed. See more about turning the toxic tide of PFAS below. We look forward to even more progress in 2022.
With Chanukah underway and Christmas approaching, you may be in the midst of gift shopping. While the low prices and quick shipping of fast-fashion retailers may be appealing, their products can be harmful to people and the planet. Our colleague Miriam Diamond, a University of Toronto scientist, tested clothing from leading brands for a CBC investigation. She found that 20 percent had elevated levels of toxic chemicals including lead, PFAS, and phthalates. Some levels were so high that the garment could be considered hazardous waste. For healthy holiday shopping tips, see our blurb below.
For holiday gifts, you might consider autographed copies of my memoirs Annapurna: A Woman's Place, Breaking Trail: A Climbing Life, and the famous "Woman's Place is on Top: Annapurna" t-shirts on my website for purchase as well as photo adventure albums to peruse.
With warm wishes for a happy and healthy holiday season,
Arlene and the Green Science Policy Team
P.S. Our Institute would like to hire an Office and Operations Manager to work in our Berkeley office in support of our projects towards a healthier world. You can learn more on our jobs page. Also, I am looking for someone to provide me with administrative help for several hours each week. Contact [email protected] to apply. Please share these job openings.
Healthy Holiday Shopping Guide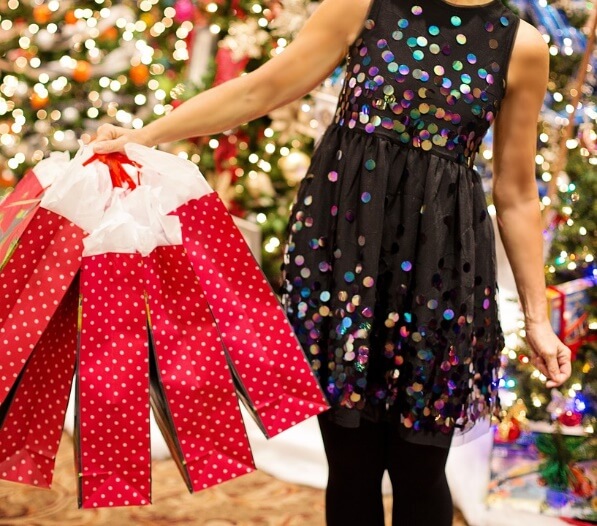 By Rebecca Fuoco
Making your list and checking it twice?
Beware, three of the most popular holiday gift categories can be a minefield for nearly all six classes of harmful chemicals.
See below for some tips and tools for safer shopping.
Clothing & Accessories
Avoid clothing and shoes advertised as "water-resistant" or "stain-resistant", which may have PFAS. Check out our list of PFAS-free apparel, outdoor gear, and shoes.
Avoid clothing advertised as "antimicrobial", "antibacterial", or "anti-odor".
Avoid fast-fashion retailers.
Makeup & Personal Care Products
Avoid personal care products with "perfluor-", "polyfluor-", and "PTFE" on the label. Check out our list of PFAS-free makeup and personal care products.
Avoid products that are advertised as "antimicrobial", "antibacterial", or "anti-odor".
Look for fragrance-free personal care products, since the ingredients "fragrance", "perfume", or "parfum" often mean phthalates are present.
Use Clearya, a free browser plug-in and mobile app that scans and flags unsafe ingredients for products on Amazon, Sephora, and other online stores.
Children's Toys
Avoid plastic toys, and instead look for toys made of FSC-certified wood, natural rubber, or organic fabric. Even plastic toys advertised as "BPA-free" may contain similarly toxic bisphenols like BPS.
Avoid toys made of vinyl/PVC, which may contain phthalates.
Avoid painted wooden toys made outside of the U.S. and Europe, which may contain lead.
Avoid inexpensive metal jewelry or charms, which may contain cadmium or lead.
Look to retailers dedicated to non-toxic children's products, like The Tot.
PFAS Legislation Roundup 2021
By Hannah Ray
We are encouraged by the recent government actions on PFAS. In addition to restricting individual chemicals, several bills this year used our recommended strategy of treating PFAS as a class.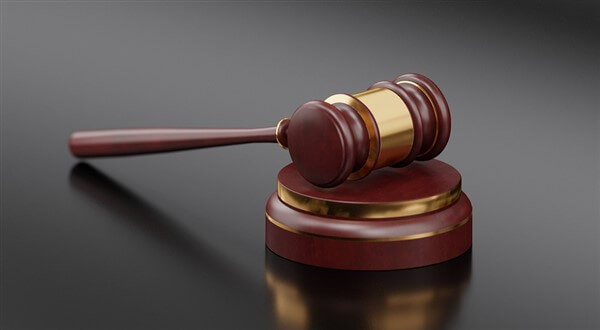 State Actions on PFAS
The big news is that the state of Maine became the first government in the world to ban the sale of all products containing intentionally added PFAS (starting in 2030)! In total, thirteen states passed thirty bills on PFAS this year. Many states passed bans on PFAS use in products including fire-fighting foam, children's products, rugs, textiles, ski wax, food packaging, cookware, cosmetics, and pesticides. On the remediation side, numerous are setting maximum contaminant levels for specified PFAS, or cleaning up PFAS pollution in drinking water, surface water, and/or soil.
For a summary of PFAS state bills go to the Safer States Bill Tracker.
Federal Actions on PFAS
Progress on PFAS was slower at the federal level. TheInfrastructure Investment and Jobs Act, recently signed into law, included $10 billion to clean up PFAS in drinking water and wastewater systems. This is a good start - however, the more comprehensive PFAS Action Act passed in the House but has not moved forward in the Senate. The No PFAS in Cosmetics Act, based on our research paper, has also not moved yet. Many federal agencies are taking action on PFAS this year - including the Environmental Protection Agency, the Food and Drug Administration, the Department of Agriculture, the Department of Defense, the Department of Homeland Security, the Department of Health and Human Services, and the Federal Aviation Administration.
International Actions on PFAS
The European Union has announced its intention to restrict all PFAS and the government of Canada published a notice of intent to address the entire class. At PFAS Central you can find PFAS news, scientific papers, policy developments, events, and opportunities We look forward to further progress in 2022!
Misleading Chemical Claims Need to Go
By Anna Soehl
Have you ever purchased a product thinking it free of one harmful chemical and then discovered that it contained another similarly harmful chemical? While ingredients used as pharmaceuticals and pesticides have to be labeled and tested, this is not true for chemicals used in consumer products. This is how we ended up with toxic Tris in our children's pajamas, furniture and vehicles, BPA in food containers, toys and receipts, and PFAS in frying pans, jackets and stain-repellent treatments.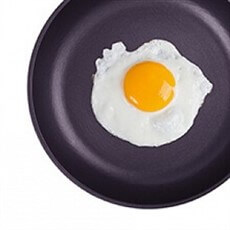 As consumers asked for products free of such toxics, marketing claims such as "BPA-free", "PFOA-free", or "PBDE-free" started to appear. Such claims can be misleading. A recent study by the Ecology Center indicates that cooking pans labeled as "PFOA-free" usually contain other problematic PFAS that are not disclosed. The main takeaway is that consumers should not rely on "PFOA-free" labels, but instead look for the wording "PFAS-free" indicating the product is free of the entire class of "forever chemicals".
The good news is that the new California Safer Food Packaging and Cookware Act will prohibit such misleading claims. Also, our Institute helps consumers identify PFAS-free products. If you know of other products that should be added to this list, please get in touch.
Why Such High Levels of PFAS in New Zealand Dolphins?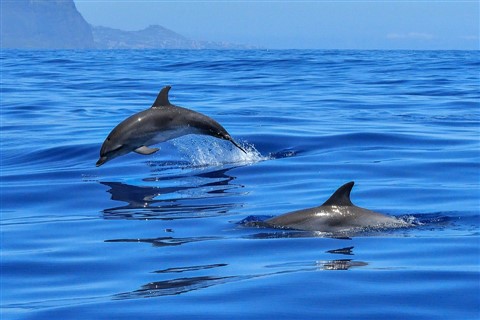 By Carol Kwiatkowski
Why would PFAS levels in New Zealand dolphins--where no PFAS are manufactured--be as high as in more industrialized countries that do manufacture PFAS and products containing it?
Researchers studied a dozen dolphins stranded on New Zealand's coast. They identified ten different PFAS with levels high enough to analyze. The researchers were surprised to find high levels of PFAS in all 12 dolphins. They hypothesized sources of PFAS to be the use of firefighting foams and other PFAS-containing products in New Zealand, as well as global distribution.
Previous research in dolphins and other marine mammals, noted in this study, demonstrate that PFAS can disrupt the endocrine, immune, and neurological systems. This raises concern for the future of dolphins everywhere, including in New Zealand where these gentle intelligent creatures are revered.
This study also shows that PFAS may be found in many places, and we don't know where until we look. We can't clean up entire oceans of PFAS. Only by turning off the tap of PFAS-laden products will we begin to fix the problem.
For more information, hear attorney Rob Bilott, Arlene Blum, and scientist Graham Peaslee's webinar to educate journalists and others in New Zealand about PFAS (or view the 3-minute highlight reel).
A Toxic-Free Christmas Tree
By Lydia Jahl
We hope that all our readers are finding ways to make this holiday season healthier and more sustainable — but one area you may have not considered is your choice of Christmas tree.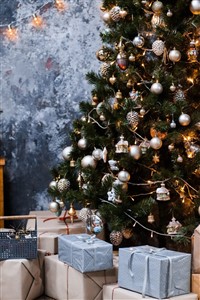 One natural option is a freshly cut, organic Christmas tree, but be sure not to apply any flame retardant sprays. While the marketing of such products makes them sound safe, there is little to no data that the flame retardants actually help prevent Christmas trees from catching fire and some may be damaging to the trees. Flame retardant sprays often do not list active ingredients or safety information and should be avoided as some include chemicals harmful to your family and pets. Instead, enjoy that fresh pine scent safely by watering your tree every day, keeping open flames far away from the tree, and only using functional, modern tree lights.
Others may prefer an artificial Christmas tree that can be used year after year, but unfortunately, most are made of polyvinyl chloride (PVC). This is a problematic chemical that may contain lead, phthalates, or even flame retardants. Some artificial trees may be made with polypropylene or polyethylene, which are better options. For an all-around healthier holiday no matter your tree choice, use a HEPA air purifier (without any ionizer or UV functionalities) and vacuum cleaner, and frequently dust with a damp cloth.
You can also consider a non-traditional option. For example, some farms allow you to borrow a potted live Christmas tree for the season which they will take care of throughout the rest of the year. Or, you can hang a green fabric Christmas tree on the wall and pin it with holiday cards or even make a minimalist wooden Christmas tree out of dowels or driftwood.
Calendar
December 2, 2021, 11am Pacific:
Science + Communication + Decision Makers = Positive Change
Arlene will give a talk as part of Western Washington University's "Toxicology and Societies" online speaker series. She will discuss scientific strategies for positive change and how to increase the impact of scientific research papers. Anyone can register for free here.
Feb. 4th, 2022, 9am - 3:30pm Pacific:
PFAS in San Francisco Bay Fish: Sources of Contamination and the Perspectives of Fishing Communities
Arlene's talk will introduce PFAS at this online meeting to discuss how to protect those who catch and consume fish from the SF Bay. Organized by Clean Water Action, the San Francisco Estuary Institute & the California Indian Environmental Alliance. Register here.
Receive Updates By Email
Subscribe to our monthly newsletter and get these updates delivered right to your inbox!