July 2020: Staying Healthy: Chemicals and Coronavirus
In this edition: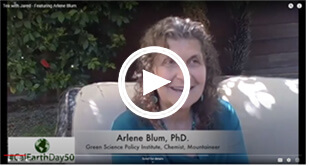 I'm delighted to share with you a short video of my optimistic discussion with CalEPA Secretary Jared Blumenfeld in honor of the 50th anniversary of Earth Day. We spoke about the possibilities for a healthier world following the pandemic.
I am also pleased that despite global uncertainty from the coronavirus, the work of the Green Science Policy Institute to reduce toxics in our environment–and in us–continues strong. Endocrine disrupting chemicals like PFAS can weaken us in our COVID-19 battle. Indeed, Congress is proposing legislation to fund EPA research on the relationship between PFAS exposure and COVID-19 susceptibility. Reducing toxic chemical exposure can strengthen our immune responses to fight off the coronavirus and other pathogens.
After two years of research and writing, 16 scientists–including four from our Institute–published an important peer-reviewed new paper on reducing harm from PFAS chemicals by managing the many thousands of them as one single class. Our paper makes the scientific case that the extreme persistence and potential toxicity of PFAS, including the large polymeric molecules, render traditional one-chemical-at-a-time management inadequate and even dangerous.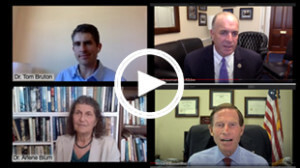 During our virtual press conference about our paper, Senator Blumenthal from Connecticut, Representative Kildee from Michigan, Linda Birnbaum, Detlef Knappe, Tom Bruton, and I spoke to 105 journalists and others about the class concept, and preventing further harm from PFAS. Please check out the recording and pass it on. Also see our July 15 Facebook Live conversation with Representative Madeleine Dean of Pennsylvania and Marta Venier which has remarkably already had 1.9K views.
On the same day our "PFAS as a class" paper was released, Senator Blumenthal and others introduced bipartisan bicameral legislation to reduce PFAS exposure among military families by stopping DOD purchasing of a range of products containing PFAS. Moving military purchasing away from PFAS will reduce the manufacture and global accumulation of these "forever chemicals."
Also on that day, my OpEd, "Will Congress finally address toxic 'forever chemicals?" was published in The Hill. I wrote it to bring more attention to the good work of EPA scientists as reported in Science, along with an excellent accompanying commentary. With brilliant scientific sleuthing, the researchers identified new PFAS pollution from a Solvay plant in New Jersey spreading across the Northeast.
I hope you enjoy this month's newsletter. Keep well.
Warm regards,
Arlene and the Green Science Policy team
Class-based Approach Makes Strides in Europe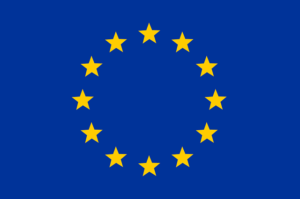 Our Institute continues to work hard to promote the class concept, a common-sense approach to protecting health that is already being followed by governments and companies worldwide.
For example the European Chemicals Agency is currently considering an innovative proposal from Germany and the Nordic countries to take action to restrict the use of all PFAS beginning by 2025. The EU is also developing a total PFAS regulation for drinking water that would limit exposure to the entire class of PFAS — including those that are well known, those that we are just learning about, and even those whose identity is still a trade secret.
Scientific research translated into policy is of great value for preventing harm from the viral pandemic and also slow-moving pandemics such as climate change and plastic and toxic pollution. We are honored to be able to have impact on the latter during these challenging times.
Avoiding both Harmful Antimicrobials and Covid-19
By Anna Soehl
One concerning side effect of the coronavirus response is the increased use of harmful antimicrobial chemicals. For example, many popular cleaning products and disinfectants contain quaternary ammonium compounds (QACs or quats), which are associated with adverse health effects including asthma, allergen sensitivity, skin irritation, adverse respiratory, nervous system, immunological, reproductive and developmental effects. Quats have been recently added to the Biomonitoring California's designated chemicals list. The use of these harmful chemicals is often
unnecessary. Disinfectants with less potential for health harm include those based on alcohol, citric acid, lactic acid, or hydrogen peroxide-they are also among the most effective, and are EPA-approved for use against COVID-19 and other pathogens.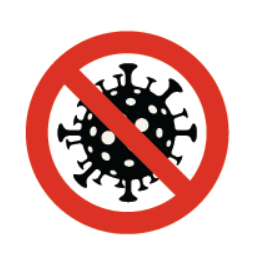 Identifying safer and effective cleaning products and disinfectants can be daunting. Fortunately, the San Francisco Department of the Environment is on top of it. See the recently released web tool on the SF Approved site that can help you buy the right products and use them wisely. Please share this link with those in charge of cleaning and disinfecting.
Also you might like to check out our Six Classes video on antimicrobials and a fun illustrated one minute video on the Florence Statement on the antimicrobials Triclosan and Triclocarban.
Interactive Workshop: Science & Policy of Reducing PFAS in Our World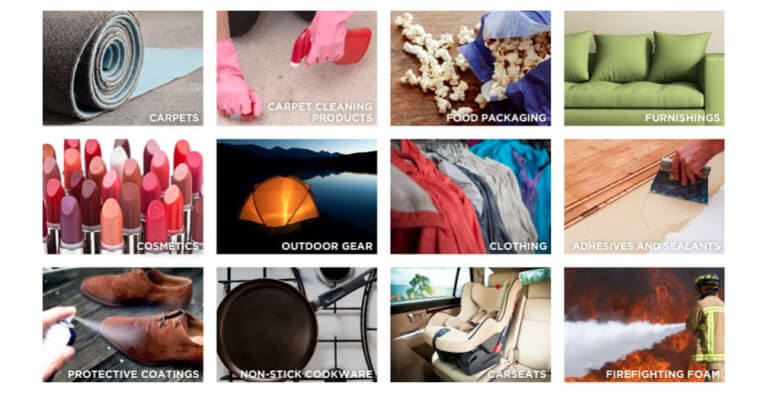 Our Institute will be hosting an interactive virtual workshop on the science and policy of PFAS following the PFAS in Our World event organized by the STEEP Research Center. Through short
presentations by business and government leaders and in small- and large-group discussions, this workshop will explore strategies to communicate science to decision makers in order to protect human & ecological health.
Date: Thursday & Friday, October 15 & 16, 2020
Time: 1:00 PM – 3:30 PM Eastern
Cost: Free
Space is limited. Please register before September 1st. You will be informed by mid-September if your registration is confirmed.
Questions: [email protected]
Green Science Policy YouTube Channel
By Seth Rojello Fernández

When you need information and want an easy entertaining format, where do you go? YouTube, of course.
Check out the Green Science Policy YouTube channel, where you can learn how to protect your health from Six Classes of toxic chemicals, watch our recent PFAS press conference with members of Congress, and view the talks from our 2020 Six Classes toxics reduction retreat–including the role of antimicrobials during the time of coronavirus and the connections between climate change, toxics, and plastic pollution.
With regular updates, subtitles in a variety of languages, and easy-to-understand science, our YouTube page is a great place to learn more about safer products and staying healthy. Don't forget to subscribe!
CALENDAR
October 15 & 16, 2020: Green Science Policy Workshop on Science & Policy of PFAS
An interactive two-session virtual workshop, following the PFAS in Our World meeting.
When: 1:00 PM – 3:30 PM Eastern
Space is limited. Please register before September 1st. You will be informed by mid-September if your registration is confirmed.
Questions: [email protected]
October 28, 2020: CWEA PFAS Summit
Arlene Blum will keynote the PFAS Summit at California Water Environment Association (CWEA) Annual Conference. Her talk is entitled: "PFAS: What It is, What It Comes From, Where It's Found and Its Dangers"
November 30 & December 1: PFAS Conference in Berlin
Arlene Blum will be the keynote speaker for the PFAS conference, Dealing with Contaminants of Emerging Concern, sponsored by the German Environment Agency
and the German Ministry for the Environment. Her presentation is entitled: "Reducing Harm from PFAS for a Healthier Environment".
Where: Berlin, Germany
Receive Updates By Email
Subscribe to our monthly newsletter and get these updates delivered right to your inbox!