July 2023: Are you snoopy? Help us out.
In this edition: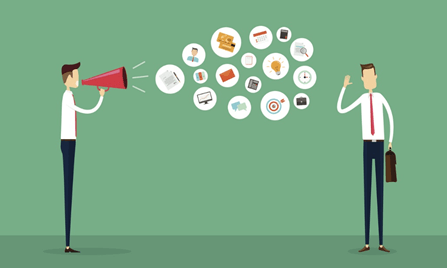 Thanks to increasing media coverage and even a Hollywood film (Dark Waters), awareness of the PFAS problem has skyrocketed since we helped sound the alarm a decade ago. Forever chemicals have a deservedly bad reputation, but it turns out that what the public hears about them is just the tip of the iceberg.
More than 90% of studies showing links between PFAS exposure and significant human health harms are published without a press release or any communication effort at all and received little or no media coverage.
Our new peer-reviewed study of 273 peer-reviewed epidemiological studies relating PFAS exposure to health harm found that papers published with press releases received 20 times more media attention than studies that did not. To increase awareness of the harm of PFAS and effect positive change, findings must be shared widely.
Part of the Green Science Policy Institute's mission is to provide resources and strategy to other scientists to effectively communicate their research results. Please consider sharing our communications webpage with scientists in your network. By both doing the research and then communicating it, scientists can increase knowledge and motivation leading to policy and purchasing change.
Clear and complete science communication about PFAS has never been more critical. According to new U.S. Geological Survey data, there's at least a one in two chance your tap water has one or more forever chemicals. The highest levels were observed near urban areas and potential PFAS sources, including in the Great Plains, Great Lakes, Eastern Seaboard, and Central/Southern California regions.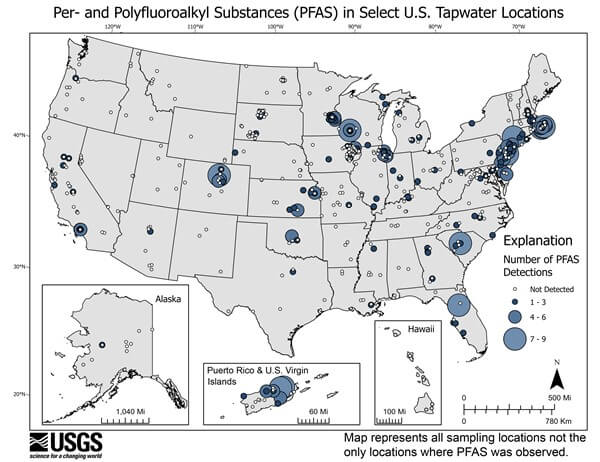 We urgently need to reduce PFAS at the PFAS in U.S. Tapwater Locations sources: its production and use in products. However, it's notable progress that we're seeing a tsunami of PFAS lawsuits and settlements across the country forcing the chemical producers to help pay for the damage that's already been done. Unfortunately, the same companies are lobbying Congress for exemptions from Superfund laws so they can shirk their responsibility for cleanup of hazardous PFAS. See this great op-ed by Mark Ruffalo urging President Biden to reject these attempts.
Meanwhile, harmful flame retardants—both old and new—are still pervasive in our bodies. A disturbing new study found 25 different brominated flame retardants in breast milk. Notably, it was the first time that a largely unregulated subclass of flame retardants, called bromophenols, were detected in breast milk.
Our Institute's flame retardant work continues with our research project with the Stapleton lab at Duke University on flame retardants in vehicles and our work with the California Outdoor Recreation Partnership to change a requirement leading to flame retardants in camping tents. Speaking of which, thanks again to those of you who participated in our study measuring flame retardants in vehicles. All participants should have received their results—please reach out to Lydia if you cannot find them in your email inbox. Look out for our full study to be published later in 2023.
Finally, you may recall our recent paper on unnecessary uses of harmful antimicrobial chemicals like QACs. We're now looking into antimicrobial usage in gyms, yoga studios, physical therapy centers, or similar facilities that sanitize exercise equipment. Gymgoers, might you help us investigate the antimicrobials at your gym? See instructions on how you can participate below.
Have a fun rest of your summer,
Arlene and the Green Science Policy team
P.S. — here are two opportunities in Berkeley:
I am looking for a new tenant for my quiet, sunny in-law apartment in the North Berkeley Hills beginning in mid-August.
Also, I am hiring a part-time personal administrative assistant for four to six hours per week of flexible work.
Possible applicants for either should email me why they are interested and send a resume if convenient.
Share With Us: Does Your Gym Use QACs?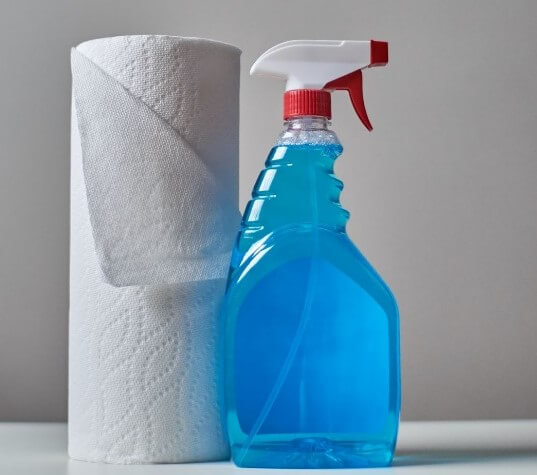 by Maya Carpenter
Have you ever considered that the sanitizing sprays widely used in gyms could be doing more harm than good? In a follow-up to our recent paper on antimicrobials called quaternary ammonium compounds (QACs) and their potential for adverse health effects on humans and the environment, we have been investigating the ingredients used in sanitizing sprays at gyms in the Berkeley, California area.
We found that the majority of the gyms we visited used QAC-based sanitizers on their equipment, encouraging gym users to wipe down machines with QACs after each use. This contributes to exposure for gym users and staff, which can cause skin irritation and adverse respiratory effects, and may contribute to antimicrobial resistance and other health harms. This paper discusses the relationship between disinfectants and antimicrobial resistance.
We'd appreciate your help to learn more about the use of QACs or other sanitizers on exercise equipment in your gym, yoga studio, physical therapy center, or similar facility. Please help us by filling out this survey or emailing us at [email protected]. Use the subject line "Gym project" with the name of the cleaner your gym uses and the name & location of your gym. If you send us a photograph of the ingredients list on the cleaner bottle, even better. Please respond as soon as convenient, and by August 16th at the latest. Thanks for your help!
Most Research on PFAS Harms Is Unpublicized
Though PFAS make headlines daily, our new peer-reviewed paper reveals that most studies finding links between PFAS exposure and human health harms are published without a press release and receive little or no media coverage. We also found that studies without any press attention receive fewer scholarly citations.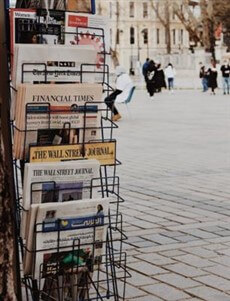 We analyzed 273 peer-reviewed epidemiological studies on PFAS human health impacts with publication years 2018-2020, as collected by the PFAS-Tox Database. Of papers reporting a More scientists should share their research with the public statistically significant association with health harm, those with a press release received 20 times more media attention than those that did not. However, less than 8% of the papers with statistically significant findings issued a press release.
Papers without press releases included studies reporting significant links between PFAS exposure and ovarian and breast cancers, osteoporosis, risks of preterm birth, and gestational diabetes.
"I urge scientists and their institutions to embrace media outreach as a critical part of the research process," said our co-author Linda Birnbaum, NIEHS scientist emeritus and scholar in residence at Duke University. "As scientists we hold the key to information that can inform better policies, medical practices, industry innovation, and more. It's our responsibility to unlock that potential by sharing our research with a wide audience."
If you're a scientist who wants to increase the reach and impact of your work, please see our webpage with videos, templates, and additional resources.
Great Videos on PFAS Industry Deception
The Dutch public broadcast show Zembla recently aired a powerful one-hour investigation into DuPont's coverup of PFAS harm in The Netherlands.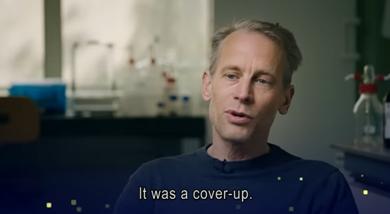 Pouring over internal documents, they found that the chemical giant has known since the 1990s that it has badly polluted the groundwater under its factory in the city of Dordrecht. "These documents clearly show that we have our own Dark Waters story. We are in Dark Waters Dordrecht," says environmental chemist Chiel Jonker. You can watch the full episode with English narration and subtitles on YouTube.
Similarly, we recommend watching a Belgian public broadcast investigation into Solvay. Though less publicized than 3M and DuPont factories, the Solvay plant in Spinetta Marengo, Italy releases 200 tons of perfluorinated gases into the air each year.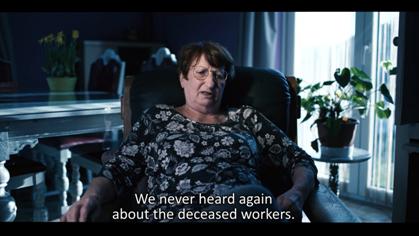 Belgian journalists found evidence that this company has concealed (and continues to deny) the damage it has done to this town.
You can watch the full episode with English subtitles on Vimeo.
Help Reduce PFAS in Europe: Comments Needed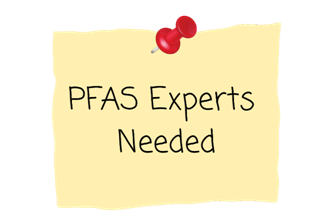 Some great news from Europe is their PFAS Restriction Proposal that would significantly limit the use of PFAS throughout the European Union. The European Chemicals Agency (ECHA) is currently accepting comments on this proposal, and we are encouraging PFAS scientists, those who produce products without PFAS, and other experts to submit their comments in support of the restriction proposal.
If you are a PFAS expert looking to help move environmental health policy forward, please consider submitting a comment. ECHA specifically needs information regarding: PFAS emissions at product end-of-life; impacts on the recycling industry; PFAS use in categories such as fracking, inks, semiconductor manufacturing, and more; the feasibility and cost of PFAS alternatives; and new analytical methods for measuring PFAS. Comments are due on September 27, 2023 on this webpage.
If you would like detailed instructions or other information on this comment process, please contact [email protected].
Green Science Policy Institute in the News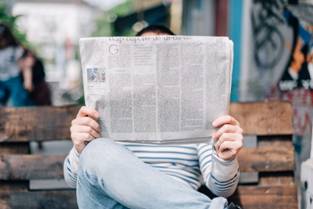 By Rebecca Fuoco
Below are recent news articles, blogs, podcasts, newsletters, and more that have featured our Institute's work and expertise.
Receive Updates By Email
Subscribe to our monthly newsletter and get these updates delivered right to your inbox!