October 2015: Don't get spooked - get informed!
In this edition: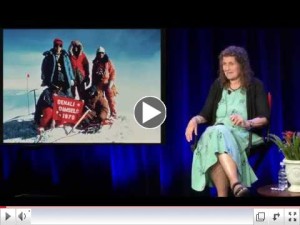 The news on harmful chemicals is enough to give anybody goosebumps; but we think accurate scientific information can scare away the Halloween goblins. Our consumer page can help you buy safer products.
Great news: four unneeded and harmful candle standards have just been decisively defeated. These would have led to millions of pounds of toxic flame retardants in electronics enclosures worldwide. Hopefully the enduring specter of the candle standard is gone for good.
You can view my recent talk at Google on the right and learn about the Institute's new goal to reduce the use of some of the Six Classes containing chemicals of concern in consumer products by 50% in the next five years.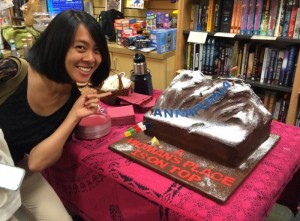 I spoke at the Commonwealth Club's "Flame Out" panel with Climate One founder Greg Dalton, State Senator Mark Leno, Toxic Hot Seat Director James Redford, and John Olech of Crate and Barrel. You should be able to listen here by Friday.
We just celebrated the reissue of my book Annapurna: A Woman's Place with a yummy Annapurna cake and an interview on Sierra Club Radio.
We wish you a fun Halloween!
Arlene and the Green Science Policy Team
Defeating the Candle Standard Goblins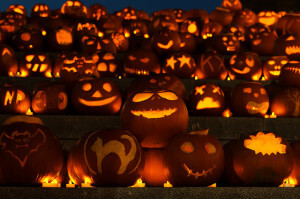 With our partners, we worked long days and nights educating decision makers in 40 countries about the health harm and lack of fire safety benefit of candle standards. And it paid off! Four proposed standards that would have led to the unnecessary use of millions of pounds of harmful flame retardants in electronics enclosures worldwide were voted down by a large margin. The toxic goblins were defeated!
Yet another reason not to add toxic flame retardants to plastic is that it can enter the recycled plastic market and end up in unexpected places like children's toys, spoons, and sandals.
Learn more on our Electronics Standards page.
DuPont Found Liable in Teflon Toxin Trial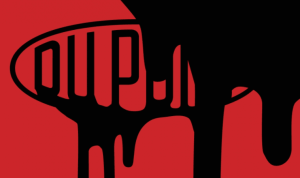 Sharon Lerner's compelling exposé, "The Teflon Toxin" tells the story of the pollution of the the Ohio River Valley and a jury awarding $1.6 million to a woman who lived there and developed kidney cancer after drinking C8-contaminated water. This is the first to be heard of over 3,500 personal injury and wrongful death cases. Company communications revealed DuPont had known about C8's toxicity since the 1960s and had found it in local drinking water for decades. DuPont had properly disposed of C8 waste in its international facilities, but at its West Virginia plant had "dumped up to 50,000 pounds a year directly into the Ohio River."
DuPont made a surprising defense argument: "If the chemical were really dangerous," their attorneys contended, "government agencies would have regulated it." The company plans to appeal the verdict.
Come See Us At Greenbuild 2015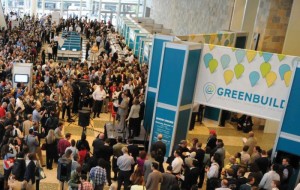 We will be at Greenbuild 2015 where Arlene is being honored with a women in sustainability leadership award. Please stop by Booth #2561 (in the Residential Pavilion) on Wednesday or Thursday, November 18 – 19 to learn about our joint projects towards healthy affordable housing. This work is in collaboration with Parsons New School for Design, Healthy Building Network, and Health Product Declaration Collaborative.
Out of Sight, but On Our Minds: Flame Retardants in Below Grade Insulation

Representatives of the Safer Insulation Solution attended hearings in Long Beach this month in support of code change proposals to allow safe below-grade use of foam plastic insulation without flame retardants. We received a number of statements of support, including one from the City of San Francisco and another signed by over 30 major companies representing many billions of dollars in design and building fees.
In spite of fire test results demonstrating that these proposals would maintain fire safety, the proposals were not approved for inclusion in the next edition of the International Building Code. An estimated 20 – 30% of voters were in support.
Chemtura announced this month that they will cease production of hexabromocyclododecane, or HBCD (a flame retardant used in polystyrene insulation, and the 22nd chemical globally banned due to its persistent and toxic properties). But it is still important to update codes so that flame retardants are not needed: the replacement for HBCD, a brominated polymer called "Poly FR," has all the makings of a regrettable substitution.
The Safer Insulation Solution is beginning work on proposals to update the next International Residential Code.
Contact [email protected] for more information or to get involved.
Fireproof Fingernails? Common Flame Retardant Chemical Found in Nail Polish
A recent study found that women might be absorbing a harmful chemical that has been used as a flame retardant into their bodies from their nail polish. Triphenyl phosphate (TPHP) is used as a plasticizer to make nail polish flexible. It is also used as a flame retardant in furniture foam. TPHP was found in about half of the 3,000 nail polishes in EWG's SkinDeep cosmetics database and has been linked to changes in hormones, metabolism, and the reproductive system. Researchers "detected evidence of…TPHP in the bodies of every woman who volunteered to paint her nails for the study."
Receive Updates By Email
Subscribe to our monthly newsletter and get these updates delivered right to your inbox!