October 2021: PFAS Beware! The Comedians are Coming!
In this edition: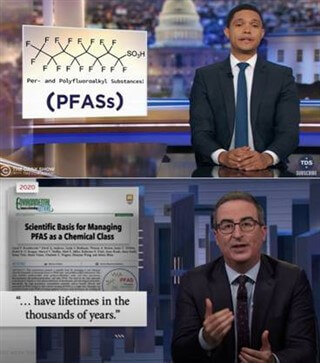 I hope you are having a pleasant autumn. Cooler weather has finally arrived in Berkeley, and the spectacular fall foliage has made for wonderful hikes in the hills. And now best of all, the much-needed rain is falling.
October has been a big month for PFAS. It's not too often you hear about these chemicals on television, let alone on late-night comedy. But PFAS have had a starring role on recent episodes of The Daily Show with Trevor Noah and Last Week Tonight with John Oliver.
I was honored to act as an advisor for the latter program, which highlighted our paper on PFAS as a class and advocated for managing all PFAS as one class.Expanding awareness of this harmful class of chemicals to a much larger audience is sure to be beneficial.
PFAS have also been in the policy spotlight. The U.S. Environmental Protection Agency released their PFAS Strategic Roadmap, a sweeping plan to begin to reduce PFAS contamination in drinking water and the environment—particularly the legacy chemicals PFOS and PFOA. We're pleased to see this agency focus on PFAS. However, swift action is needed on the whole class, particularly to stop their use in products.
In California, Governor Gavin Newsom signed into law bans on the use of PFAS in children's products (including car seats and cribs) and disposable food packaging. Best of all, products can no longer be advertised as free of one type of PFAS if another one is present. We're happy to see more governments take on PFAS as a class in whole categories of products where they are non-essential. This is a winning approach, and we hope the rest of the country follows suit.
With Halloween around the corner, I am feeling nostalgic about our newsletter from exactly 10 years ago that featured the couch graphic. The spooky skulls represent the toxic flame retardants that were added to couch foam because of an outdated California furniture flammability standard called TB117.
After years of science and advocacy by our Institute and others, California enacted an updated standard called TB117-2013 which can be met without flame retardant chemicals. However, in the blurb below you can read about our recent webinar discussing efforts that threaten to undermine this progress.
Finally, both the Green Science Policy Institute and I personally are looking for administrative help. The Institute needs an administrative professional in our North Berkeley office half time or more every day. Separately, I need someone to manage my small Annapurna book and t-shirt business and other admin help for several hours each week. Contact me to apply.
Kind regards,
Arlene and the Green Science Policy Team
Third Time's a Charm? Toxic Tris Still in Cars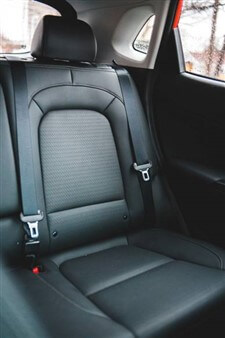 By Lydia Jahl
First chlorinated tris was found in children's pajamas, then removed because it was a mutagen that changed DNA. Then it was used in furniture and children's products; and removed due to its cancer-causing properties. Frustratingly, it is still used in cars and other vehicles. The carcinogenic and neurotoxic flame retardant tris (1,3-dichloroisopropyl) phosphate (TDCPP, or "chlorinated tris") has been recognized as harmful for over 40 years since it was removed from children's sleepwear. Yet most of us are still exposed to this flame retardant on a regular basis in our cars.
Since the 1970's, vehicle interiors have been required to pass an open flame standard, which is most easily met by adding flame retardant chemicals to vehicle seat foam, dashboard plastics, and more. While one might assume that adding chemicals characterized as "flame retardants" helps prevent the spread of fires, this is not always the case. For example, upholstered furniture foam containing flame retardants does not have a significant fire-safety benefit over furniture that instead meets a smolder standard like TB117-2013. Furthermore, the addition of flame retardants increased both the amount and toxicity of smoke. Boston firefighter Jay Fleming suggests that the name "smoke accelerator" is more accurate than "flame retardant" to describe flame retardants like Tris that are commonly used in foam and plastic.
Although chlorinated tris is listed as a carcinogen under California's Proposition 65, auto manufacturers can continue using it in cars. We urge manufacturers to find healthier ways to meet the current flammability standard and welcome partnerships to achieve this goal. In the meantime, you can reduce your own exposure to chlorinated tris and other flame retardants used in vehicles by opening your windows for a few minutes at the beginning of a drive, keeping your car free of dust, and washing your hands before eating.
Common Chemicals in Electronics and Baby Products Harm Brain Development
By Rebecca Fuoco
Decades after chlorinated tris was removed from baby pajamas in the 1970s, new harmful flame retardant chemicals keep cropping up in children's products.
Our Institute's new paper in Environmental Health Perspectives found that organophosphate esters—increasingly used as flame retardants and plasticizers in car seats and other children's products, as well as cars, electronics, furniture, and building products—may harm IQ, attention, and memory in children in ways not yet considered by regulators.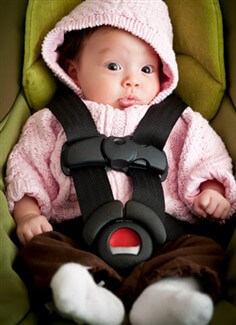 These chemicals are being used as replacements for organohalogen flame retardants under the incorrect assumption that they're safe. Just like their predecessors, organophosphate esters continuously migrate out of products into air and dust. Contaminated dust gets on our hands and is then inadvertently ingested when we eat. Children are particularly exposed from hand-to-mouth behavior. Babies and young children consequently have much higher concentrations of these chemicals in their bodies during the most vulnerable windows of brain development.
The paper concludes with a call to end all nonessential uses of organophosphate esters, including their use as flame retardants to meet ineffective flammability standards in consumer products, vehicles, and building materials.
"Organophosphate esters threaten the brain development of a whole generation," said co-author and retired NIEHS Director Linda Birnbaum. "If we don't stem their use now, the consequences will be grave and irreversible."
Thousands of PFAS, Hundreds of Contaminated Sites, One Home for Data
By Carol Kwiatkowski
The science, policy, and news on the PFAS Central website attests to the fact that the problem of PFAS is bigger than anyone can imagine.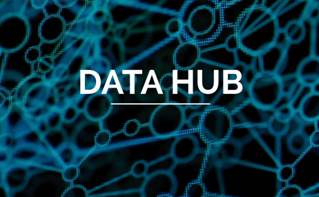 A year ago, a group of 17 university and government scientists, NGO and community-based advocates from five countries got together after a PFAS workshop hosted by our Institute to talk about how to get easier access to valuable data on PFAS. We discussed PFAS in products, sources of contamination, biomonitoring data, community and government initiatives, and more.
From this energizing brainstorm the PFAS Data Hub was born. Hosted on the PFAS Central website, it currently contains links to over 75 databases organized into 14 categories. The interface we created is deceptively simple. It's just a categorized list of links. But each one delivers a wealth of knowledge.
Around the world, people are gathering data on the many impacts of PFAS. Our goal is to provide easy access to such important information. You can read our blog and visit the PFAS Data Hub on PFAS Central to learn more.
Scientists Urge EPA to Close PFAS Loopholes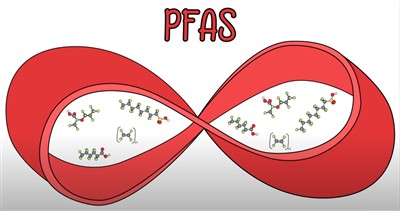 By Anna Soehl
Have you been wondering how toxic substances known as forever chemicals or PFAS have been able to contaminate the bodies of nearly all people and animals around the globe? It is largely because most PFAS entering commerce have not been subject to the full safety review required under the existing chemical regulations. Actually, some PFAS have not been subject to any regulatory chemical safety review.
The good news is that this is a problem that can be fixed. Our Institute recently prepared and submitted a letter signed by over 50 PFAS scientists, recommending that the US EPA grants a petition filed by 15 frontline community and advocacy groups. The petition requests that a number of current exemptions be prohibited for PFAS and that the US EPA conduct a full safety review of all PFAS in commerce. The exemptions of interest cover substances that are considered as byproducts, polymers, low volume, or have low release and exposure potential.
We hope that our letter helps to focus increased attention to this very important issue. In the meantime, each of us can do our small part by selecting PFAS-free products and demanding that the brands we use move away from this class of toxic chemicals.
For more information on PFAS and other chemical classes of concern, visit our Six Classes website.
Purchasing Fire-Safe & Healthier Furniture
By Jonas LaPier
Along with the Center for Environmental Health and Health Care without Harm, we recently co-hosted a webinar to educate furniture purchasers on current fire standards and concerns for the future. For nearly 40 years, furniture in the U.S. and Canada contained harmful flame retardant chemicals to meet an ineffective California open flame standard called Technical Bulletin 117. This standard was replaced by a more effective smolder standard in California that led to a great reduction in the use of flame retardants. We happily shared with almost 200 webinar participants the good news that this California standard was recently adopted as the new federal furniture flammability standard in June 2021. This harmonization of the standard makes it easier for large purchasers and consumers alike to find furniture without flame retardants.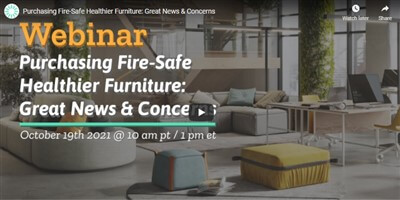 Not all have welcomed this change. Those who profit from flame retardants and flammability testing continue to encourage the use of open flame standards. Such standards are likely to be met with flame retardants chemicals that have not been shown to increase fire safety overall. Rather, they delay time to ignition for a few seconds, but do not reduce heat output, and can create more smoke during combustion. Boston firefighter Jay Fleming suggested that the name "smoke accelerator" is more accurate than "flame retardant" to describe flame retardants like Tris that are commonly used in foam and plastic.
Also, the Industry has been presenting misleading statistics such as the claim that fire deaths have increased in California since the adoption of our new smolder standard. However, they fail to mention that this rise is accounted for by an increase in wildfire deaths; fires associated with upholstered furniture have remained unchanged. For more examples of fact versus fiction on fire safety, flame retardants, and furniture, check out our blog here and view the webinar recording here.
Antimicrobials in Building Products: Why?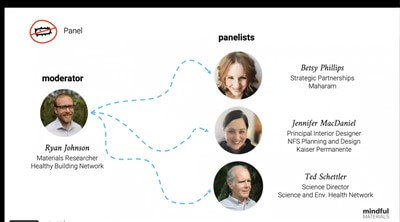 In the midst of the COVID-19 pandemic and mounting pressure to add antimicrobials to building products, concerned manufacturers reached out to green building experts and academic researchers to learn more about the science of antimicrobials and what to do. The outcome of those conversations was a joint statement intended to spark a conversation about the use of added antimicrobials in building products and a call to action for upholding a precautionary approach and using evidence-based approaches to protecting human health. (Read the full statement here.)
Co-hosted by mindful MATERIALS, the Green Science Policy Institute, and Healthy Building Network, this panel was intended to deepen that conversation. While the statement summarizes the major health and environmental concerns raised by adding antimicrobials to building products when they are not necessary for product preservation, we know that many in industry have practical questions about how to address this complex issue. In response, speakers from the healthcare sector and manufacturing industry were invited to present their take on this often confusing topic. Attendees were also invited to submit their own questions for further discussion. Watch the full panel here.
CALENDAR
November 2, 2021, 2pm Pacific:
Forever chemicals in New Zealand - ­what the chemicals industry doesn't want us to know!
This webinar features global experts sharing insights on the health and environmental harm of PFAS, and what is being done to reduce their use. Speakers are attorney Rob Bilott, scientists Graham Peaslee and Arlene Blum, and Kirstine Hulse from the New Zealand wool industry.
To register, contact [email protected].
Receive Updates By Email
Subscribe to our monthly newsletter and get these updates delivered right to your inbox!