September 2019: This is Ridiculous!
In this edition: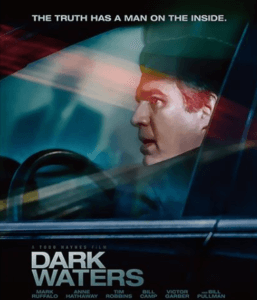 I hope you are enjoying the last days of summer. A lot is happening in the world of PFAS, the class of toxic "forever chemicals."
Earlier this week, Home Depot announced they will stop selling carpets and rugs containing PFAS by the end of the year! This is great news as carpets have been a major source of PFAS exposure.
The announcement builds upon our two years of educational work with the carpet industry. Several leading manufacturers have told us our workshops were a catalyst for their moving away from PFAS to better chemistries. Thus, the carpet industry is ready to provide Home Depot with PFAS-free carpets.
You are invited to a book party for attorney Rob Bilott, a hero of the PFAS saga and author of Exposure, an account of his decades-long battle with DuPont. Please join us Sunday, October 6, in a lovely garden and home in Berkeley, California. See below for more information about the party and the film Dark Waters from Participant, opening November 22. Your can watch the trailer of this story of chemical industry greed–out yesterday–here.
At a House hearing last week entitled, "The Devil They Knew: PFAS Contamination and the Need for Corporate Accountability," Congressman Dan Kildee, whose district includes Flint, Michigan, said it well: "It is ridiculous that corporations like 3M, Dupont and Chemours have made billions of dollars by selling these PFAS chemicals, and now want to point the finger at somebody else."
And according to our colleagues at ChemSec, the profits may not be there anymore.
"The so-called forever chemicals are working out to be a long-term financial disaster:" From 2018 to the present, 3M shares are down 33%, DuPont shares down 37%, and Chemours down 72%, likely due to their potential liability for PFAS contamination of the drinking water of millions.
You can read much more on our PFAS Central website, including a brand new list of PFAS-free products. We are developing this list at the request of communities who have been drinking PFAS-contaminated water for decades and want to reduce their exposure.
Please tell us if you know of product lines or manufacturers who have stopped using PFAS and we will add their PFAS-free products to our list.
Other news is that the Consumer Product Safety Commission made the surprising move to select veteran Commissioner Robert Adler as its acting Chair. Adler, a Democrat, was selected by the Republican-majority Commission due to his decades of experience at the agency.
Finally, in honor of the International Year of the Periodic Table, Bloomberg Businessweek is writing about interesting people connected to each of the chemical elements. To my amazement, they chose me to represent Bromine. I wonder what the producers of brominated flame retardants think about this!
Have a good autumn,
Arlene and the Green Science Policy team
October 6 Book Party for "Exposure" with Rob Bilott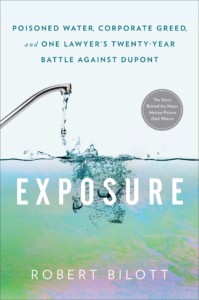 Our Institute is hosting a book party for Rob Bilott and his new book Exposure: Poisoned Water, Corporate Greed, and One Lawyer's Twenty-Year Battle against DuPont, which will be published on October 8. The party will be held in a lovely North Berkeley home and garden from 3:00 to 5:00 pm on Sunday, October 6. RSVP to [email protected] or call 510-898-1739 to attend and meet Rob.
Rob's story will also be documented in the Participant film Dark Waters, starring Mark Ruffalo and Anne Hathaway. We are working with the movie's social action team in the hopes that this film will have a large impact as did another Participant film, Al Gore's An Inconvenient Truth.
Please mark your calendar to see Dark Waters on its opening weekend, November 22-24. The film will open in Los Angeles, New York, San Francisco, Boston, Chicago, Seattle, Washington, DC, Atlanta, Dallas, and Austin. A big opening weekend will help the film succeed.
A New Clue to a Mysterious Epidemic
by Seth Rojello Fernández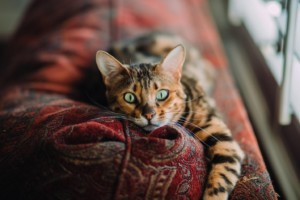 A mysterious epidemic of hyperthyroid disease is affecting about 10% of the 2 million household cats in North America. According to veterinarian Steve Gardiner, when flame retardants were first added to furniture around 1980, hyperthyroid disease in cats hardly existed. Gardiner contributed to research relating the disease to PBDE flame retardants. PBDEs were found to be toxic and mostly phased out of use in 2005; yet, in a case of regrettable substitution, the main replacement flame retardant was chlorinated tris (TDCIPP).
A recent study in Environmental Science & Technology used silicon collar tags to learn about cats' exposure to chlorinated tris. Dust contaminated with flame retardants sticks to the silicon tags. Scientists measured the flame retardant concentrations in the dust and estimated the cat's exposure. The researchers found that TDCIPP exposure is associated with hyperthyroidism in cats.
The good news is that furniture flammability standards were changed in 2014 so flame retardants are no longer required and most new furniture does not contain any of these harmful chemicals. As we replace our older couches with new, flame retardant-free ones, our feline friends, children, and loved ones should have reduced exposure to toxic flame retardants and hopefully this mysterious epidemic will begin to subside.
From the Pages of PFASCentral.org: Toxics Complicate Water Sustainability
by Joe Charbonnet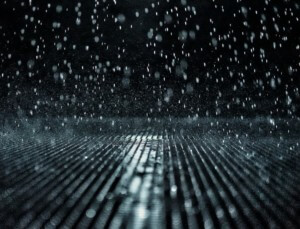 Parched cities from California to Australia are looking for new sources of water. Stormwater, long considered a nuisance, is now often viewed as a sustainable resource to tap. It is, after all, fresh water literally falling from the sky. However, several new studies caution municipalities about what they put in their aquifers, as toxic chemicals might tag along with this otherwise promising water supply.
A study highlighted on PFAS Central this month cautioned that "forever chemicals" could travel long distances through underground aquifers, potentially contaminating water saved up for a sunny day. The Australian researchers recommended that utilities give this water extra treatment to remove PFAS, particularly if it might end up in the drinking water supply.
Meanwhile, scientists from the US Geological Survey sampled stormwater from across the country. Their research detected over 200 contaminants-many from the Six Classes-in gutters from sea to shining sea. The team found the toxic metal methylmercury in 90% of samples. Most stormwater also tested positive for flame retardants, bisphenols, and phthalates. These studies highlight how toxic chemicals perniciously disrupt sustainable initiatives that might at first seem unrelated. A world free of toxics wouldn't just be healthier, it would be more sustainable too.
Flame Retardant Justifications up in Smoke
by Kathryn Rodgers and Joe Charbonnet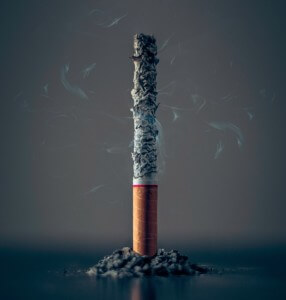 A new study from the Silent Spring Institute calls into question furniture fire safety regulations that compel manufacturers to use flame retardants. The peer-reviewed article finds that adding flame retardants to furniture does not protect consumers from the most deadly fires.
Flammability standards based on open flame tests drive the use of flame retardants in furniture. However, the researchers found that between 2003 and 2016 in Massachusetts, the odds of someone dying in a furniture fire caused by smoking was three times greater than in a furniture fire caused by an open
flame source. Overall, furniture fires were rare, accounting for only 2.2% of all house fires. They were deadlier than other kinds of fire, however, particularly when started by smoking products.
Lead author Kathryn Rodgers says, "If we really want to protect consumers and reduce fire deaths, we should focus on scenarios involving smoldering cigarettes." There are ways to make furniture resistant to smoking products without the use of flame retardants. According to Rodgers, the new findings could inform the development of future flammability standards to ensure they both increase fire safety and protect public health.
Are Polymers PFAS?
by Tom Bruton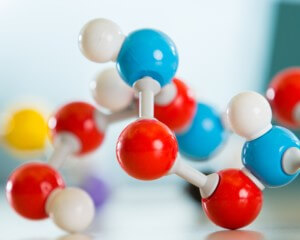 Last month I attended a SETAC North America meeting focused on PFAS. One of the scientific debates that played out there (among others) was whether big molecules called polymers are indeed members of the chemical class of PFAS.
A polymer is a material made up of many smaller similar units linked together. Fluorine-containing polymers like PTFE (aka Teflon) and PVDF are produced in large volumes and are used in products from frying pans to Gore-Tex jackets to solar panels.
Fluoropolymers have traditionally been considered part of the PFAS family of chemicals — but industry would like to change that. Companies that produce and use fluoropolymers point out that, because of the polymers' large size, it is hard for them to get into our bodies' cells and cause harm in the way that a chemical like PFOA does. Thus, they say that polymeric PFAS should not be lumped in with other harmful fluorinated chemicals.
While it is true that fluoropolymers are less toxic than other PFAS, they are still problematic. Fluoropolymer production usually requires the use of other non- polymer PFAS. In fact, fluoropolymer production facilities are the largest global source of PFOA emissions. The plant in Parkersburg, WV, that contaminated the Ohio River Valley, is a notorious example.
Fluoropolymers are still PFAS. We will continue to call for limiting their uses to those that are truly essential.
CALENDAR
September 24, 2019: Honoring Linda Birnbaum on the Hill, Washington DC
You are invited to two events Tuesday, September 24 in honor of NIEHS Director Linda Birnbaum's retirement:
Congressional briefing, A Healthy Start for Every Child, and lunch at 12:00 noon, 902 Hart Senate Office Building
Capitol Hill reception 5:30pm to 7:30pm, 2043 Rayburn House Office Building
RSVP to [email protected] or or 202 544-7499 to attend For more information contact [email protected]
October 3, 2019: Plastic Health Summit, Amsterdam, Holland
Arlene Blum's filmed talk on the Six Classes, Plastics, and Health will be presented at the first-ever Plastic Heath Summit.
October 6, 2019: Book Launch Party – Rob Bilott: Exposure
Time: 3:00pm to 5:00pm
Location: Berkeley, CA
Meet attorney Rob Bilott and learn about his dramatic story as told in his new book Exposure: Poisoned Water, Corporate Greed, and One Lawyer's Twenty-Year Battle against DuPont.
RSVP to [email protected] or 510 898 1739 to attend.
November 22 to 24, 2019: Dark Waters
Be sure to go see the Participant film Dark Waters, starring Mark Ruffalo and Anne Hathaway as Rob Bilott and his wife during the opening weekend November 22 to 24 if you live in or near Los Angeles, New York, San Francisco, Boston, Chicago, Seattle, Washington, DC, Atlanta, Dallas, or Austin.
Receive Updates By Email
Subscribe to our monthly newsletter and get these updates delivered right to your inbox!