February 2019: A New Canary in the Coal Mine?
In this edition:
The last month has seen much activity around the chemical classes of flame retardants and highly fluorinated chemicals or PFAS. At our February 15 Flame Retardant Dilemma and Beyond Symposium at UC Berkeley, we were inspired by speakers such as Robert Bilott, the lawyer who successfully represents communities with PFAS-contaminated drinking water, and Pam Miller who helps Arctic peoples who have some of the world's highest levels of these toxics in their bodies.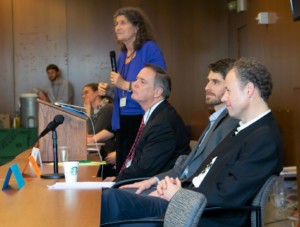 Some big news is that 24 member states of the European Union unanimously voted to prohibit the use of halogenated flame retardants in the enclosures and stands of TVs and computer monitors. A supporter of this change wrote us that the European Commission made this decision by "putting the overall huge benefits for EU citizens and circular economy before the vested interest of a single industry."
Other flame retardants news is the repeal of California Technical Bulletin 133, a large open flame test standard for upholstered furniture in public places which led to the use of high levels of flame retardants. As TB133 did not appreciably improve fire safety, but led to smokier and more toxic fires, this repeal is a win for both healthier furniture and fire safety.
Regarding PFAS, there is both good and bad news. On the negative side, Chemours is transporting PFAS waste from Holland to North Carolina to avoid strict Dutch disposal rules as recounted in an excellent article by Sharon Lerner. Unfortunately, the amount of contamination being found around the US continues to increase – for example you can read the sad account "Groundwater contamination devastates a New Mexico dairy." A New Mexico farmer must dump 15,000 gallons a day of milk and will need to euthanize all 4,000 of his prize dairy cows due to PFAS contamination of his water supply from a nearby military base.
Such tragic stories are contributing to action on PFAS in many states, as discussed below, and also at the federal level. For example, a bill is being introduced in the US House that would require EPA to establish Maximum Contaminant Levels (MCLs) for PFOA and PFOS within one year. This would mean that all US drinking water supplies would need to be tested for these chemicals and would have to be cleaned up to safe levels. Other proposed legislation would require the EPA to designate all PFAS as hazardous substances, which would shift much of the liability for enormous clean-up costs from the public to the polluters.
Thank you for reading our newsletters. We welcome your comments and also suggestions for other topics about which you would like us to research and write.
Kind regards,
Arlene and the Green Science Policy team
Cats on Carpets: A New Canary in the Coal Mine?
by Alex Young
Cats are notorious nappers and can snooze for more than fifteen hours each day. However, their cozy life spent sleeping on carpets treated with highly fluorinated chemicals (PFAS) and furniture treated with flame retardants might be putting them at risk of health problems.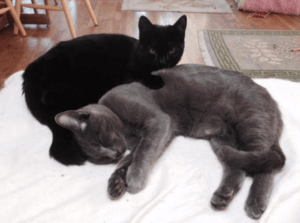 For example, PFAS chemicals are often used as stain repellents in household furnishings, from which they can make their way into the body of a sleeping cat or human. A 2018 study by the California Department of Toxic Substances Control (DTSC) measured the levels of 12 PFAS compounds in household cats to see if there might be a correlation with levels found in humans in the same household. They found that cats and humans that share a living space have a similar profile of body burdens of PFAS compounds. The results showed that while exposure to either chemical harmed sperm quality via a predictable dose-response relationship, a mixture of the two chemicals produced more complex patterns of damage, suggesting that the interaction of chemicals in a realistic "cocktail" can produce a whole greater than the sum of its parts.
The DTSC study also found a decline in the concentration of PFAS in cats over the five-year study period, possibly due to the phase-out of some of the more well-studied and known toxic PFAS such as PFOA and PFOS. Researchers also found a correlation between hyperthyroid disease in cats and higher concentrations of PFAS.
PFAS is not the only chemical suspected to contribute to the current epidemic of hyperthyroid disease in cats. A 2016 DTSC study found a correlation between household levels of polybrominated diphenyl ether (PBDEs) flame retardants and hyperthyroid disease in cats.
This study built upon 2012 research that examined the effects of PBDEs on feline thyroid glands and household dust as a primary exposure route. The additive effects of different toxic chemicals such as PBDEs and PFAS are currently unknown, but could play a role in thyroid diseases. Chemical contamination is often a human interest story, but we should not forget about our furry friends who can't speak up for themselves, and may well be the new "canaries in the coal mine."
Europe Votes to Ban Halogenated Flame Retardants
by Joe Charbonnet
While detectives Hercule Poirot and Miss Marple will likely be depicted on European TVs for years to come, the European Union has no appetite for mystery when it comes to toxic chemicals in TVs. In December 2018, 24 member states of the EU unanimously voted to prohibit the use of halogenated flame retardants in the enclosures and stands of electronic displays. Among other benefits, policymakers anticipated that this change would reduce the inclusion of toxic flame retardants in recycled plastic that can end up, for example, in kitchen utensils.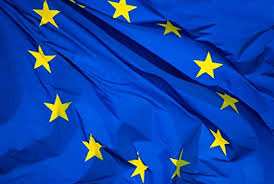 The regulation must still pass scrutiny by the European Parliament and European Commission President. If implemented, it would prevent the sale of televisions and computer monitors containing halogenated flame retardants in their cases and stands within the EU after March 2021.
Extensive research and reporting has found that flame retardants in electronics enclosures, which provide limited fire safety benefits, can migrate out of the plastics and into humans, where they can cause harm. Flame retardants are not chemically bonded to the enclosures, so they move into the dust around televisions and computers when the gadgets warm up. From there, they can be easily picked up on the hands of a toddler or paws of a pet. While this change would leave open the possibility of organophosphate flame retardants being used as regrettable substitutions, this is a positive step towards ensuring that the only thing scary about your TV is the show.
Microplastics, Macroproblems
by Eric Garcia
A recent paper produced by working groups for the Stockholm and Basel Conventions sounded the alarm on the potential implications of endocrine disrupting compounds in marine plastic litter in the world's oceans.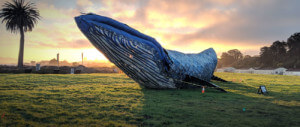 Harmful chemicals, such as the flame retardant HBCD and the plasticizer BPA, are released into the bodies of marine life or leached directly into the oceans as plastic degrades into micro- and nanoplastics. For instance, researchers reported elevated concentrations of HBCD in oysters raised on aquaculture farms using HBCD-containing buoys. The danger of these endocrine disrupting compounds lies in their ability to mimic and compete with hormones, thereby impairing biological processes like reproduction, and resulting in lower birth rates and potentially reducing biodiversity. These impacts on marine ecosystems can potentially reduce food availability by depleting fish populations or harm human health by contaminating fisheries. However, very little research has been focused on the extent of these impacts.
As ocean plastic is expected to nearly double to 250 million tons by 2025, researchers expect the environmental impacts of micro- and nanoplastics to significantly worsen. Major improvements are needed to waste management and collection systems, particularly in developing countries. Furthermore, work must be done to restrict the use of these chemicals in plastic production. However, experts believe the only meaningful way to address this growing problem is to fundamentally change societal attitudes toward plastic consumption.
Class In Session: States Increasingly Regulating Families of Chemicals
by Joe Charbonnet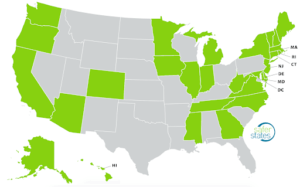 In a sign that the simple-yet-innovative class concept is resonating with policymakers, a record number of states are considering regulations to limit the use of entire families of similar toxic chemicals. Nearly a dozen states are considering restrictions on the use of PFAS in food packaging and/or firefighting foam and at least 16 states will weigh limits on flame retardants in furniture, children's products and mattresses. These proposals are among the scores of bills related to toxic chemicals to be considered in 28 states this year, according to Safer States. These bills reflect the increasing awareness that regulating chemicals by class, rather than one-at-a-time, can help to prevent regrettable substitutions.
Washington State has been a leader, passing legislation to restrict the class of highly fluorinated chemicals in 2018. In this session, lawmakers in the Evergreen State will consider a bill which directs the Department of Ecology to "determine regulatory actions to increase transparency and to reduce the use of priority chemicals," with a particular emphasis on classes such as PFAS, flame retardants, and phthalates.
Please Welcome Our New Science & Policy Interns, Eric and Alex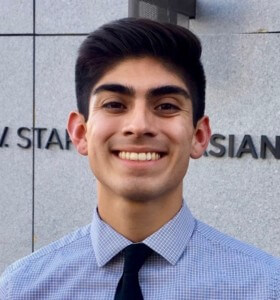 Eric Garcia
Eric is a Master's student in the Environmental Engineering program at UC Berkeley. He is interested in sustainable water resources management and previously assisted in the design of a solar membrane distillation system.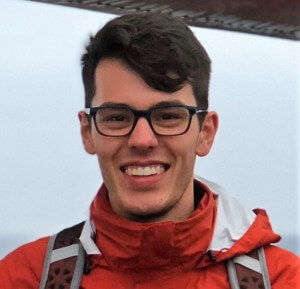 Alex Young
Alex is working toward his Master's in environmental engineering at UC Berkeley. He was drawn to environmental engineering because of his passion for environmental health and the science that drives it.
CALENDAR
April 17, 2019: Mountains and Molecules
Time: 5:00pm
Location: Hope Room, URI Robert J. Wiggins Welcome Center, 45 Upper College
Road, University of Rhode Island, Kingston, RI 02881
Arlene Blum will giving a lecture about PFAS and other chemicals of concern. Learn more here.
May 21-22, 2019: Emerging Contaminants in the Environment Conference
Location: Champaign, IL
Tom Bruton will be giving a keynote and participating in a panel. Learn more here.
Receive Updates By Email
Subscribe to our monthly newsletter and get these updates delivered right to your inbox!