February 2020: Better Luck for the Irish?
In this edition:
I'm writing to you from the winter wonderland of Jackson Hole, Wyoming. During some productive meetings in Washington, DC, last week, I shared the concept of Essential Use of PFAS with government and nonprofit staff. This important idea involves stopping the use of the class of PFAS chemicals where they do not serve an essential function or when safer alternatives exist. For example, PFAS are not essential in dental floss, food packaging, cosmetics, or non-stick frying pans.
Leading on from this concept, one of the many useful provisions in this year's defense budget is to "prohibit the military from using fluorinated packaging in Meals, Ready-to-Eat (MREs)." An interesting question is whether such a prohibition could be extended to other defense and government purchasing. This could have a big impact in product manufacturers moving away from using the class of PFAS chemicals.
Here in Jackson I'll be skiing, speaking, and hosting several free screenings of Dark Waters. Please join me if you will be in the area. This important legal thriller about PFAS will be available for rental online on March 3, 2020.
Earlier this month we held our Flame Retardant & PFAS Dilemma symposium at UC Berkeley. This year's event was a big success, with more than 130 participants from academia, government, industry, NGOs, and the general public learning from experts about the science and policy of chemical classes of concern. If you'd like to see this year's slide presentations, they are now available on this page.
One highlight was the presentation by Malene Teller Blume, Quality Manager at Coop–one of Denmark's largest retailers. Malene told the story of how Coop took bold action by banning PFAS in its private label products and then successfully campaigned for the Danish government to ban all PFAS in food contact materials. Watch Coop's impactful campaign video by clicking the image above.
Another highlight was our Keynote Speaker, California Secretary for Environmental Protection Jared Blumenfeld. In outlining his vision for a healthy California, he stressed looking at whole classes of toxic chemicals rather than regulating chemical-by-chemical. We are delighted the class concept is catching on.
Finally, our Institute wants to hire a Science and Policy Associate or Fellow and an Operations Manager to facilitate our work for reduced toxics in a healthier world. You can learn more on our jobs page.
Warm regards,
Arlene and the Green Science Policy team
PFAS in Drinking Water: Will California Lead the Way?
by Tom Bruton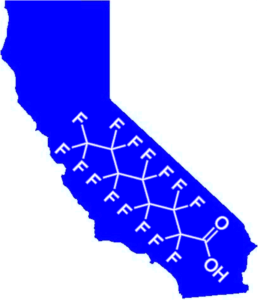 The highly fluorinated "forever chemicals" called PFAS have become a hot topic in California. Not so long ago, it seemed possible that PFAS pollution would not be a major issue here. In 2018, PFAS were garnering headlines in places as diverse as Michigan, Vermont, and Florida. Lawmakers in Washington, DC, were holding hearings to find out how these chemicals had contaminated the drinking water of millions of Americans. But in the Golden State, PFAS were hardly in the news.Less than two years later, a lot has changed. The State Water Resources Control Board has embarked on a major effort to measure the extent of PFAS contamination and track down potential sources. Hundreds of wells near landfills, airports, metal finishing operations, refineries, and wastewater treatment plants are being tested. The Board also lowered the levels at which water providers must respond to PFOA and PFOS contamination and provide information to the public. As a result, up to a third of Orange County Water District's wells may be taken offline, at least until additional treatment can be installed.All of this is a helpful start, but more needs to be done. Much of the conversation about California water is still focused on just two of the PFAS chemicals: PFOA and PFOS. As Cal EPA Secretary Jared Blumenfeld acknowledged at our symposium earlier this month, managing the risks of PFAS as a class holds more promise than a chemical-by-chemical approach. Solving the problem of PFAS in drinking water is an opportunity for California to show the kind of environmental leadership it's famous for. Let's hope the state seizes the day.
Material Buyers Club: Our Health Is not for Sale
by Joe Charbonnet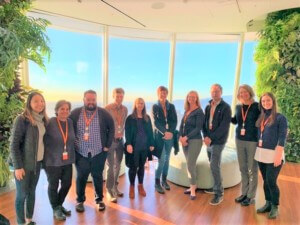 Uptown Taupe. Dolphin. Fedora Grey. For all the colors of carpet you could get with the click of a button, one feature for fibrous flooring proved frustratingly hard to find: the absence of toxic PFAS chemicals. That was, until large purchasers like Google, Salesforce, and Kaiser Permanente asked the carpet manufacturers to provide them with carpets free of any PFAS. These companies are some of the members of the Material Buyers Club, a community of large purchasers that collaborate with designers, specifiers, manufacturers– and our Institute– to shift the market toward healthier materials with reduced use of classes of toxic chemicals.
Producing building materials, window treatments, or many other products without harmful chemicals can seem too difficult for some manufacturers. But when the collective purchasing might of the Material Buyers Club organizes around the demand for a healthy alternative, non-toxic production often looks less like a niche and more like untapped market potential.
The Material Buyers Club meets monthly to hear about new opportunities for healthier product procurement and share best practices. A highlight is the annual visit to a member's healthy building project. This year it was a tour of the new Salesforce Tower in San Francisco, where low-VOC paint, toxic-free office furniture, and carpet made from old fishing nets were as much a draw as the stunning views.
If you represent a large purchaser and are interested in learning more about the Material Buyers Club, or if you have a toxic-free product or certification you'd like to share with the members, please contact Seth Rojello Fernández.
Better Luck (and Furniture) for the Irish?
by Arlene Blum and Anna Soehl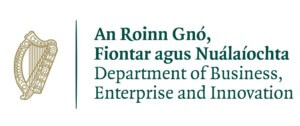 Please consider responding to a unique call for comments on Ireland's Furniture Flammability Regulations.
Currently, the UK and Ireland are only places is the world with open flame furniture flammability standards. These standards lead to the use of large amounts of harmful flame retardant chemicals in furniture and children's products. The chemicals migrate out and are found at high levels in dust, humans and wildlife in the UK and Ireland.
Ireland is now considering whether they should continue to follow the UK open flame standard or move to the EU's smolder standard, which can be met without harmful chemicals. They are soliciting input on this decision through questions here.
Responding to the Irish request for information seems especially important now, as flame retardant producers are once again actively campaigning for the greater use of these chemicals in Europe. For example the European Fire Safety Alliance, a group supported by flame retardant manufacturers, will hold a meeting at the European Parliament in Brussels to discuss increased fire safety for Europe.
If you are knowledgeable about flame retardants and flammability standards, we hope you might answer some of the question here to facilitate Ireland's possible move to a smolder standard without the need for flame retardants.
Please let Anna Soehl know if we can answer any questions or provide additional information. Comments are due March 31, 2020.
CALENDAR
February 20 and February 24, 2020: Free 'Dark Waters' Screenings in Jackson Hole, WY
Arlene Blum will host free screenings of the environmental thriller 'Dark Waters' and answer questions from the audience.
When: 4:30pm and 8:00pm
Where: MovieWorks Cinema, 860 South Highway 89, Jackson, WY
You can obtain tickets at JacksonHoleCinemas.com.
February 21: Northern California Water Reuse Chapter Meeting
Tom Bruton will present.
When: 9:45am
Where: Hamilton Community Center, Novato, CA
March 6, 2020: UC Davis AgChem Colloquium, Davis, CA
Arlene Blum will present a keynote talk for UC Davis AgChem Colloquium
When: 11:00am
Where: Plant and Environmental Sciences Building (PES), Room 3001, Agriculture
and Environmental Chemistry, University of California, Davis, CA (2594 Hearst, Berkeley, CA)
March 24, 2020, Green Labs Summit, St. Louis, Missouri
Arlene Blum will give a keynote. The intent of the Summit is to bring together scientists, manufacturers, sustainability professionals, and others to envision a truly sustainable future.
Where: MilliporeSigma, 2909 Laclede Avenue, St. Louis, MO
March 25, 2020: California 2020 Used Oil/Household Hazardous Waste Training &
Symposium, Sacramento, CA
Arlene Blum will give the opening keynote on the Six Classes concept.
Where:Doubletree Hotel, 2001 Point West Way, Sacramento, CA
March 31, 2020: Sustainable Packaging Coalition Impact 2020, Austin, Texas
Tom Bruton will present on PFAS and food packaging.
When: 9:30am
Where: AT&T Hotel & Conference Center, Austin, TX
April 1, 2020: CWEA PFAS Summit, Reno, Nevada
Arlene Blum will keynote the PFAS Summit at California Water Environment Association (CWEA) Annual Conference. Her talk is entitled: "PFAS: What It is, What It Comes From, Where It's Found and Its Dangers"
When: 10:00am
Where: Reno-Sparks Convention Center, Reno, NV
April 4, 2020: Global Health and Innovation Conference, New Haven, CT
Tom Bruton will present on the Six Classes at Unite for Sight's 17th annual Global Health & Innovation Conference.
Where: Yale University, New Haven, CT
Receive Updates By Email
Subscribe to our monthly newsletter and get these updates delivered right to your inbox!