October 2020 : Sharing Our Strategy for Success
In this edition:
What brought a shoe company executive, a congressional staffer, law professors, and scientists together this month? They spoke at our interactive workshop on the science and policy of PFAS. Although we prefer to hold our workshops in person, seven months into the pandemic, we've become accustomed to Zoom. And it has the advantage that participants from business, academia, and government were able to join us from around the world.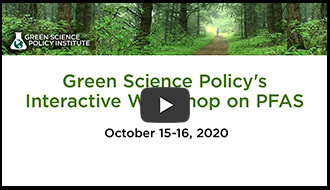 Over two days, we shared strategies for translating PFAS science into policy and brainstormed new collaborative ideas for positive change. For example, we shared our model for communicating scientific papers, which has a long track record of increasing the impact of our scientific research. This sparked ideas for PFAS communications projects, including a media training and a community outreach program for scientists.
A couple other virtual events, both on November 30, that you can watch for free from the comfort of your home are the very inspirational Goldman environmental awards and a major international PFAS meeting sponsored by the German Environmental Agency, where I'll be presenting the opening keynote talk and closing remarks. More information is in our calendar below.
Our recent paper on managing PFAS as a class is an example of our communications strategy at work -- the paper has been downloaded more than 23,000 times and is the most read article in ES&T letters right now. Extending the momentum, the lead
author, our new Science and Policy Senior Associate Carol Kwiatkowski, published an op-ed in The Conversation. She explains how "the happy accident of Teflon's discovery was, in fact, a train wreck," and points to our paper's recommendations as
a way forward.
The concepts of PFAS as a class and essential use are making an impact in Europe. The EU's new chemicals strategy aims to phase out all non-essential uses of PFAS -- which would be enormous progress. To learn more, read Carol's blurb below.
On the US policy front, Tom and I coordinated 40 of our scientist colleagues in calling for a ban on military purchasing of products with non-essential PFAS. Service members and their families can face possible disproportionate exposure to PFAS in drinking water. Proposed legislation would protect them from some other exposures.
And as a large purchaser, "the military can lead the way in preventing the use of PFAS at its source--in products." Read our press release for more information.
Warm regards,
Arlene and the Green Science Policy team
P.S. Unprecedented days of huge fires, scorching heat, bad air, high wind point to
the importance of the vote. If you would like to volunteer to encourage others to
vote, Seed the Vote, Voter Protection Phonebank, Next Gen provide opportunities.
Feel free to contact me for more ideas. Nothing is more important than getting out
and protecting the vote.
A Tribute to Jamie Redford and Kirby Walker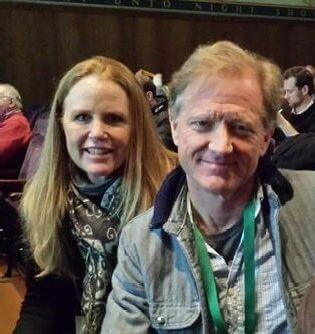 On a very sad note, our good friend the noted film producer and environmentalist, Jamie Redford passed away from cancer last week. Jamie and Kirby Walker, also an outstanding documentary film maker and environmental activist, produced the film Toxic Hot Seat which contributed to our country moving away from the use of cancer- causing flame retardants in furniture and baby products. Sadly, last year Kirby also died of cancer. We want to recognize Jamie and Kirby's important contributions and the heartbreak of these kind and brilliant friends dying too young. Such tragedies help motivate our work to prevent cancer-causing chemicals in everyday products.
PFAS Science & Policy Workshop Talks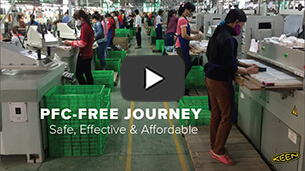 Our two-day interactive workshop on the science and policy of PFAS was held in conjunction with the PFAS in Our World conference. Please check out the short expert talks below.
Squash the Quats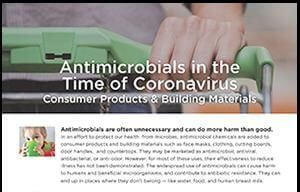 By Anna Soehl
Our new antimicrobial fact sheet has important information about quaternary ammonium compounds (QACs or quats), and other antimicrobials of concern that are being overused during this pandemic. Quats, which have been associated with antibiotic resistance, asthma, allergies and a wide range of health problems, are used in consumer and building products as well as in many cleaning products and disinfectants. Not surprisingly, their concentrations in residential dust have increased significantly during the pandemic.
In a recent op-ed, researchers studying one of the quats--benzalkonium chloride-- questioned whether that chemical belongs in consumer products. To date, research has not established a health benefit from embedding quats in durable products like furniture, school supplies and countertops. Also, while quats are effective in cleaning applications, many safer disinfectants can be used instead.
Sadly, scientists are documenting wildlife deaths associated with antimicrobial exposure due to outdoor spraying of disinfectants and calling for better oversight and regulation of spraying practices. Both WHO and CDC discourage large scale spraying of quats and other disinfectants because of their ineffectiveness and potential for harm. Please do check out and share our new fact sheet, where we discuss adverse health impacts and the lack of efficacy of antimicrobials in products.
Clearer Vision with Safe Simple Soap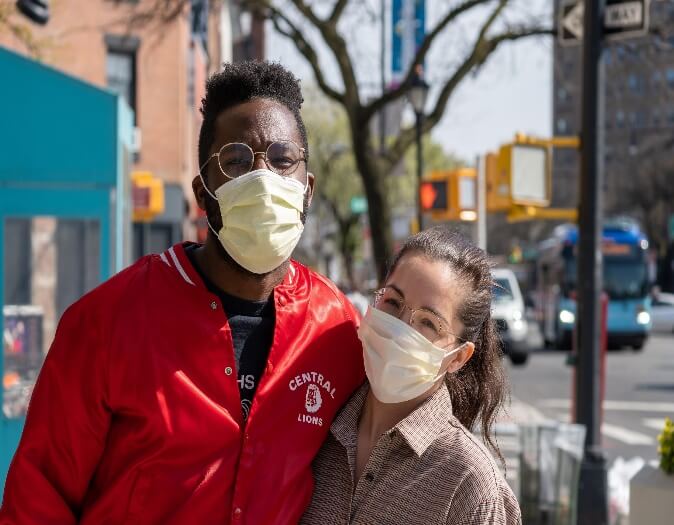 By Seth Rojello Fernández
If you've ever purchased prescription eyeglasses you know that lens coatings to prevent fogging are an option. Wearing face masks has increased the fogging problem, and thus more people are choosing anti-fog lens coatings or after-market wipes and sprays. But these products can contain harmful PFAS. The good news is that soap and water can be used to prevent fogging on eyeglasses (just as they can be used to fight COVID-19). As the soap and water dries, they leave behind a temporary film that acts as a barrier, preventing fog caused by your breath. Learn how to protect yourself from COVID-19 and foggy glasses with safe simple soap in this short article and entertaining how-to video.
PFAS: When do we really need them?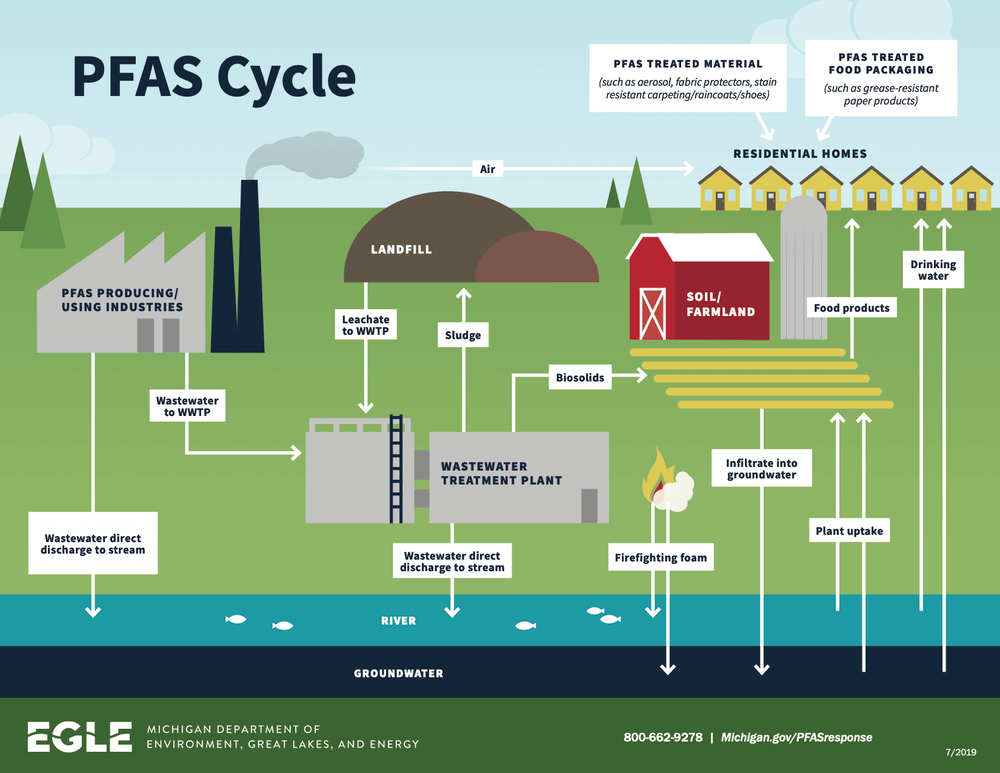 By Carol Kwiatkowski
Using PFAS only when necessary could greatly reduce exposure to and harm from this large class of persistent chemicals. The good news is that Europe is leading the way. On October 14, the EU released its Chemicals Strategy for Sustainability, which calls for phasing out all PFAS except for uses that are determined to be essential for society. While much work is needed to define how such a phase-out could happen, we are delighted that the essential uses approach is moving forward in the EU.
Two other great resources to view and share are based on our recent paper, Scientific Basis for Managing PFAS as a Chemical Class . One is a six minute video interview with several authors of the paper including Dr. Linda Birnbaum, recently retired director of the National Institute of Environmental Health Sciences. The other is an article recently published in "The Conversation", PFAS forever chemicals are widespread and threaten human health - here's a strategy for protecting the public. It is a short, engaging, easy to read overview that you can share with family and friends to bring them up to speed on PFAS.
CALENDAR
November 30: Goldman Environmental Prize 2020 Virtual Award Ceremony
When: 4:00 pm - 5:00 pm PST
The Goldman Environmental Prize is the "Nobel prize for environmental work"
honoring grassroots environmental activists. Usually this moving event can only be viewed by a limited number of ticket holders, but this year's fun and inspirational event will be a livestream hosted by Sigourney Weaver. The Goldman Ceremony is one of our Institute's favorite events of the year. Register to watch here.
November 30 & December 1: PFAS Conference in Berlin Dealing with Contaminants of Emerging Concern
Arlene Blum will be the keynote speaker and lead the concluding panel for this international PFAS conference, Dealing with Contaminants of Emerging Concern, sponsored by the German Environment Agency and the German Ministry for the Environment. Her opening talk is entitled: "Reducing Harm from PFAS for a Healthier Environment".
You are invited to register free of charge here.
Receive Updates By Email
Subscribe to our monthly newsletter and get these updates delivered right to your inbox!