October 2022: Victory! Cleaner Clothes and Cosmetics
In this edition:
Following on from our decade of hard work to stop the use of PFAS in consumer products, California Governor Newsom recently signed into law bills requiring the phaseout of all PFAS in textiles and cosmetics. With California being the world's fifth largest economy, this should stop the use of PFAS in numerous products throughout North America and perhaps beyond.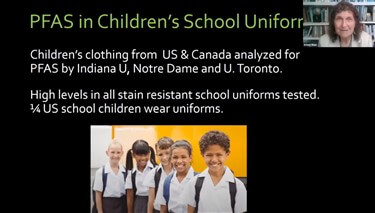 The signings came a week after publishing our joint study finding PFAS in stain-resistant school uniforms and a year after our other joint study finding PFAS in makeup. Most important, the legislation bans the whole class of PFAS from these products—an approach for which we have been advocating since the Six Classes concept was developed at our 2013 Toxics Reduction Retreat.
These bills are an excellent example of our communications strategy for success: scientific research + communication + decision-makers = change. Our Institute carried out peer-reviewed research with leading academic scientists, engaged legislators and manufacturers, supported NGOs leading legislative work, and received widespread media coverage. Scientist collaborators at the University of Toronto, Indiana University, and Notre Dame as well as nonprofits including Breast Cancer Prevention Partners (BCPP), NRDC, Clean Water Action, EWG, all made important contributions.
California Assembly member Phil Ting, the lead sponsor of the legislation banning PFAS in textiles, cited our paper on PFAS in school uniforms in his press release announcing the signing of his bill. You can watch our press event on PFAS in uniforms and textiles with attorney Rob Bilott, Marta Venier from Indiana University, Nancy Buermeyer from BCPP, and Phil Ting on the Green Science Policy YouTube channel.
With all the progress in stopping the use of PFAS in products (demand), we should expect an accompanying decrease in production (supply). However, PFAS producers are still trying to expand their operations. For example, citing projected increases in microchip manufacturing —a process which currently uses PFAS—needed for President Biden's important Microchips and Science Act, chemical giant Chemours is applying to expand PFAS production at its North Carolina facility. That's despite the fact that the facility has already caused decades of harm to the local community.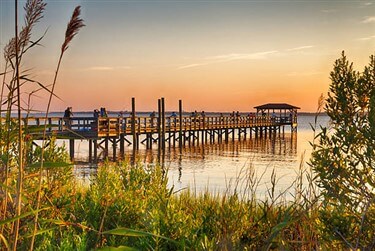 We have submitted for publication an opinion piece suggesting that the PFAS already on our planet should be repurposed for essential uses rather than increasing the capacity to manufacture more of these harmful forever chemicals. You can learn more about the situation in North Carolina and sign a petition against the expansion proposal on Clean Cape Fear's website.
And if you are concerned about a new draft WHO report minimizing the health harm from PFAS, you can comment by November 11. More information below.
On another important subject, our Institute is looking for a Science and Policy Associate to join our team of scientists to help reduce harm from PFAS and other chemical classes of concern. You can learn more on our Jobs page.
Finally, if you haven't already done so, please subscribe to ourYouTube channel. It has brief educational videos about harmful classes of chemicals, recordings of our favorite webinars and meeting presentations, memorable interviews, and more.
Kind regards,
Arlene and the Green Science Policy team
P.S. - Nothing is more important for our health, environment, and democracy than voting. Be sure to vote soon and encourage your friends and family to so the same. Seed the Vote, Next Gen & Vote Forward provide late breaking opportunities to volunteer & encourage others to vote. Please contact me for more ideas.
Flame Retardants Beware! Out of Our Couches!
With Halloween coming up, here's a spooky couch graphic from years past. The skulls represent the toxic flame retardants that were added to furniture foam beginning in 1976 to meet an ineffective California furniture flammability standard called TB117. You can learn more in an informative Retro Report from the New York Times.
After years of research and advocacy by our Institute and others, in 2014, California updated its standard to increase furniture fire safety by stopping most fires in fabric without the need for flame retardants in foam. And in 2021, the updated California standard was adopted as a federal furniture flammability standard for the whole country. Great news for both health and fire safety!
However, some flame retardant manufactures and test labs are continuing to support open flame standards likely to be met with flame retardants. Such standards can delay ignition time for a few seconds, but they also can increase smoke production and fire toxicity. The industry message that fire deaths have increased in California since the adoption of our new standard is based on wildfire deaths! Fires associated with upholstered furniture are unchanged.
To learn more, check out our blog here.
Plaid, Pleated, and PFAS-Treated?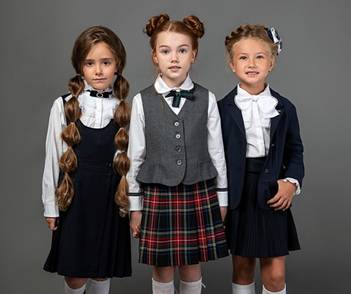 By Rebecca Fuoco
Millions of schoolchildren in the U.S. and Canada are exposed to potentially harmful levels of PFAS everyday through their uniforms, according to our joint peer-reviewed study published in Environmental Science & Technology. This is especially concerning as school uniforms are worn directly on the skin for up to eight hours per day by children, who are particularly vulnerable to harm.
Apparently, some uniforms are treated with PFAS for stain resistance. Indeed, 0ur team detected PFAS in all "stain-resistant" school uniforms tested from nine popular brands. Do we need to protect our kids' clothes from stains or protect our kids from their clothes?
PFAS in treated uniforms may end up in children through skin absorption as well as from eating with unwashed hands, hand-to-mouth behaviors and mouthing of clothing by younger children. Further, PFAS-treated uniforms are a source of PFAS contamination in the environment when they are worn, laundered, and discarded or recycled.
Fortunately, school uniforms are included in California's legislation phasing out PFAS in textiles by 2025. However, children shouldn't have to wear potentially harmful uniforms for another three school years. Manufacturers should stop using these chemicals immediately, as they're simply unnecessary. See more advice for parents, schools, and manufacturers here.
Is There PFAS Contamination in Your Neighborhood?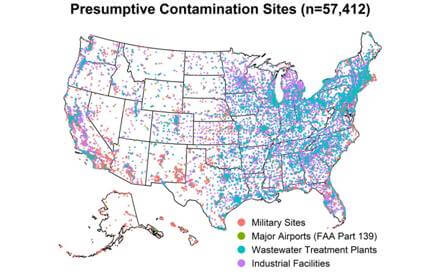 Do you live near a military base, an airport, or a wastewater treatment plant that could be concentrating PFAS waste from upstream? Tens of thousands of these and other facilities across the United States are likely sources of PFAS pollution, according to a new study from the PFAS Project Lab at Northeastern University. Their study recommends that contamination should be investigated at such locations.
The authors integrated high-quality, publicly available data into a single map of 57,412 locations, with sites in all 50 states and D.C. On the online interactive map, you can zoom into your area to see likely contamination sites near you.
While 57,000 sounds like an alarmingly high number, this is almost certainly an underestimation. "The scope of PFAS contamination is immense, and communities impacted by this contamination deserve swift regulatory action that stops ongoing and future uses of PFAS while cleaning up already existing contamination," says co-author Northeastern Professor Phil Brown.
The (Fake) Grass isn't Greener
By Grace Sandel
The City of Boston recently halted the installation of a new artificial turf field. According to the Malcom X Park construction update, Mayor Michelle Wu directed that no new artificial turf will be installed in Boston. A spokesperson commented to the press that "the City has a preference for grass playing surfaces wherever possible," but clarified that there is not a formal turf ban in Boston.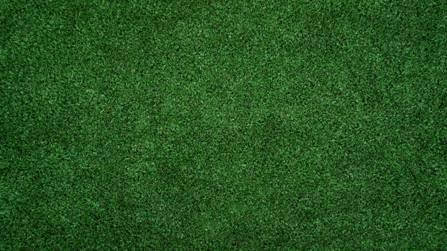 Artificial turf contains chemicals that are known endocrine disruptors, carcinogens, and mutagens. The crumb rubber turf infill is of particular concern because it can wash off the field and enter the surrounding environment, stick on people's skin and clothes, and accidentally be ingested by young children. The risk of chemical exposure is not limited to the infill material—a study conducted in Stockholm found PFAS in the backing that holds the artificial grass blades in place.
Boston is not the only municipality to pause artificial turf installations. In 2021, the City of Millbrae in California extended a temporary moratorium on the installation of artificial turf as it studies the health impacts of chemicals in the turf and environmental leaching. In Connecticut, the town of Westport banned crumb rubber in fields in 2018 citing concern over chemical exposure.
The presence of toxic chemicals in artificial turf is well-studied, leading these municipalities to take the precautionary approach and limit artificial turf installations, but the exposure risk to children and athletes needs further research. Regardless, the use of PFAS in artificial turf should be avoided because of the harmful impacts throughout their lifecycle.
Your Comments: Draft WHO Report on PFAS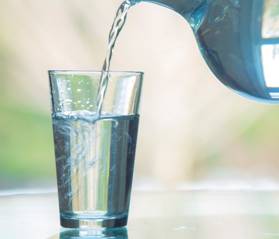 By Anna Soehl
As you might recall from our July newsletter, the U.S. EPA recently issued very low interim health advisory levels for PFAS in drinking water. This action indicates that even very low concentrations of these harmful chemicals should be avoided, and their unessential uses eliminated.
Surprisingly, the World Health Organization (WHO) overlooked many scientific studies finding health harm from PFOA and PFOS and instead based its new draft drinking water recommendations on what it considers to be currently achievable water treatment solutions.
Might you like to comment? You can review the WHO approach and submit comments by November 11, 2022. Let us know if you would like more information. We encourage comments from the global PFAS scientific community.
Green Science Policy Institute in the News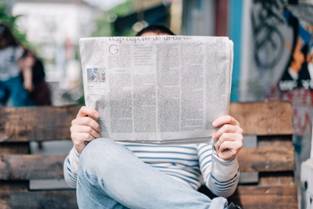 By Rebecca Fuoco
Below are recent news articles, blogs, podcasts, newsletters, and more that have featured our Institute's work and expertise.
Calendar
November 1, 2022, 2:45pm Pacific:
The Greenbuild International Conference and Expo
San Francisco, CA
The Material Buyers Club, including Google, CBRE, Harvard University, and the San Francisco Department of the Environment, facilitated by our Institute, will discuss "The Power of Purchasing Toward a Healthier Built Environment". Learn more and register here.
November 30, 2022:
Outdoor Industry PFAS Information Exchange Workshop
The Green Science Policy Institute is planning a one-day-long "Outdoor Industry PFAS Information Exchange" workshop on November 30, 2022 at the David Brower Center in Berkeley. Outdoor retailers, brands, and others along the supply chain will collaborate with scientists, innovators of safer alternatives to PFAS, and government & NGO representatives to plan a joint path towards phasing out PFAS in outdoor products and other textiles. Contact [email protected] to learn more.
Receive Updates By Email
Subscribe to our monthly newsletter and get these updates delivered right to your inbox!