September 2021: Less Carbon, More Toxics?
In this edition: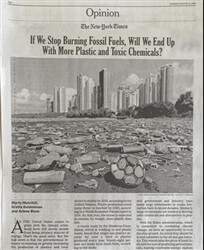 I've just returned from an adventure in Iceland, hiking in the highlands and meeting with some leading Icelanders. I especially appreciated having tea with Iceland's first lady, Eliza Reid. She and several others with whom I met are now interested in following Denmark's lead in banning PFAS in food packaging as well as stopping their use in other products. Small countries like Iceland can quickly enact good chemical policies that can serve as models for the rest of the world.
Gretta Goldenman, our Institute's board chair, Marty Mulvihill, of Safer Made and our Advisory Board, and I are delighted to have had our Opinion piece published in The New York Times. The petrochemical industry is currently pivoting to increased production of plastics and toxic chemicals to make up for declining fuel sales. This shift could undo the gains of the climate movement and put our bodies and our planet at risk. We argue that the interrelated challenges of climate, plastic pollution, and chemical toxicity must be solved together. If we focus on only a single metric, like greenhouse gas emissions, we may encourage the shift from fuel to plastics and toxic chemicals. You can read the full Op-Ed in The New York Times or The Star Tribune.
Please get in touch with my co-authors or me, if you might want to stay in touch about solving the critical related problems of climate, plastic pollution, and toxics.
Our Institute also co-authored new PFAS research published this month. Our study with the University of Rhode Island suggests indoor air is an underestimated and potentially important source of exposure to PFAS, particularly for children. We detected PFAS in the air of kindergarten classrooms, university offices and laboratories, and a home—some with levels as high as those measured at an outdoor clothing company and carpet stores selling PFAS-treated products. Thanks to our communications strategy, the study was covered widely in the media, including in The Guardian, The Hill, and Fast Company.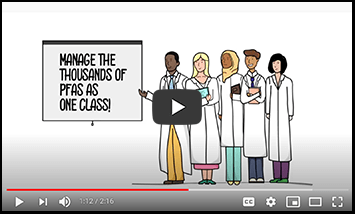 This paper further illustrates the need to stop the unnecessary use of the whole class of PFAS in products. As long as they continue to be used in products, we'll all be eating, drinking, and breathing PFAS.
You can learn more about the need to manage PFAS as a class in our new two-minute video. More about the video is below.
Finally, we're happy to announce that our Institute is the first non-European NGO to become a member of ECOS (Environmental Coalition on Standards), an international organization advocating for environmentally friendly technical standards, policies, and laws. We have collaborated with ECOS for more than a decade, preventing misguided flammability standards that would have resulted in the addition of harmful and ineffective flame retardants to electronic cases worldwide. We look forward to continuing our work with ECOS for safe and healthy electronics.
We wish you a good autumn,
Arlene and the Green Science Policy Team
Managing PFAS as a Class: Best Paper Award & Video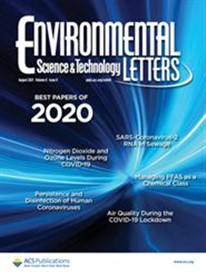 by Carol Kwiatkowski
Great news! Our peer-reviewed paper, Scientific Basis for Managing PFAS as a Chemical Class, was one of five winners of the 2020 Environmental Science & Technology Letters Best Paper Award. Perhaps no surprise, it was co-authored by some of the top PFAS experts from academia, government, and nonprofits in the US and Europe. Also not a surprise, the other four winning papers all addressed the COVID-19 pandemic. You can read about all five papers in this commentary by the journal.
You can also view our new two-minute animated video explaining why it is so important that we adopt a class-based approach to PFAS management.
There are too many of these highly persistent chemicals for governments and businesses to keep up with the old approach of addressing PFAS one chemical at a time. Chasing the next chemical in the whack-a-mole game of regrettable substitutes must become a thing of the past. It is time to begin eliminating non-essential uses of PFAS and finding safer alternatives for currently essential uses. Please help us spread the word by sharing this new video on listservs and social media. It is a great introduction for your friends and family who might wonder what all the fuss is about PFAS!
You can find our shareable posts on Twitter, Facebook, and LinkedIn.
Parting Words on PFAS
Senior Scientist and PFAS expert Tom Bruton is moving to a new position working for the Safer Consumer Products Program at the California Department of Toxic Substances Control. When asked for his parting words of wisdom, Tom gave this insightful response: "Prevention is better than cure is a well-recognized maxim in the field of healthcare, but it is also relevant to the problem of harmful chemicals. A version of this same thought is the first Principle of Green Chemistry. But it's a message that hasn't yet reached sp many environmental policymakers."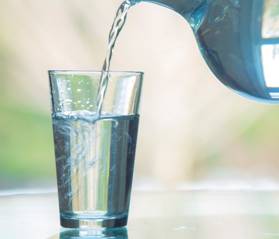 "The U.S. spent close to $9 billion on cleanup of toxic chemicals at contaminated sites in 2020. While remediating hazardous waste sites is critical, doing so while continuing the widespread use of the same chemicals that caused the contamination makes little sense."
Our Institute's priority with PFAS and other classes of harmful chemicals is to stop new contamination by not using them in products unless their use is essential. We are proud to have contributed to the reduced use of PFAS in food packaging, carpets, outdoor gear and cosmetics. And we will have more exciting news on stopping the use of PFAS in other products soon.
We wish Tom very well in his new position and look forward to continued collaborations.
Webinar: Purchasing Fire-Safe & Healthier Furniture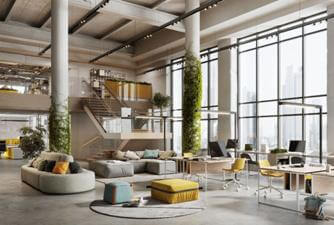 By Lydia Jahl
How long has it been since you were updated about furniture flammability standards and improved specification requirements? Join our webinar on October 19th at 10 am Pacific to learn about new regulations, new ways to identify and purchase healthier furniture, and concerning efforts that threaten our progress towards fire-safe and healthier interiors.
Speakers include Judy Levin (Center for Environmental Health), Tonya Corcoran (California Bureau of Household Goods and Services), Lydia Jahl (Green Science Policy Institute), Jay Fleming (Boston Fire Department), Steve Kooy (Business and Institutional Furniture Manufacturer's Association - BIFMA), and Jen Jackson (San Francisco Department of the Environment).
This webinar is geared towards purchasers and designers in healthcare, government, private business, hospitality, and education, but anyone interested in this topic is welcome to join. Click here to register for this free webinar hosted by the Center for Environmental Health, Green Science Policy Institute, and Health Care Without Harm.
We're Breathing PFAS: Study Finds Harmful Forever Chemicals in Indoor Air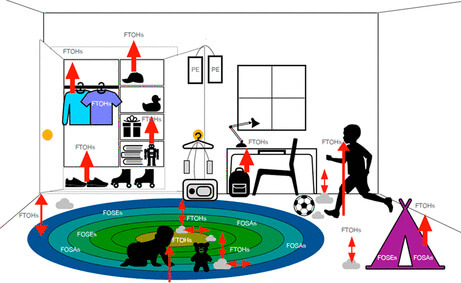 By Rebecca Fuoco
The air we breathe in our homes, schools, and workplaces can be polluted with harmful PFAS chemicals, according to a new study by the University of Rhode Island and our Institute. A new measurement technique developed by the research team detected PFAS chemicals in the air of nearly every indoor location tested, including classrooms. In fact, several kindergarten classrooms tested had higher indoor air concentrations of PFAS than the storage room of an outdoor clothing store, which was full of jackets and gear treated with PFAS.
It's already widely known that food and water are major sources of PFAS exposure, but these results show that we shouldn't overlook the air we're breathing. In fact, for children in homes or schools with old PFAS-treated carpets, indoor air may be even more important than dust as an exposure pathway to volatile PFAS.
While families, schools, and workplaces can reduce indoor air levels of PFAS by replacing older carpets treated with PFAS, there are still many other products that can emit volatile PFAS into indoor air, including clothing, shoes, building products, and furnishings. That's why it's time to turn off the tap and stop all unnecessary uses of PFAS in products.
Upcoming PFAS Reporting Rule for Manufacturers
By Hannah Ray
In the last 10 years, have you manufactured, processed or imported products containing PFAS? If so, we wanted to share with you that the Environmental Protection Agency (EPA) may soon require a detailed report.
In June 2021, the EPA, under the Toxic Substances Control Act (TSCA) proposed a new rule that would require industrial users of PFAS to submit a one-time comprehensive report on all PFAS manufactured or imported since January 1, 2011. Information required in the report would include: PFAS names, structures, quantities, uses, byproducts, environmental and health impacts, worker impacts, and disposal methods. This rule will enable the EPA to better characterize the sources and quantities of manufactured PFAS in the United States.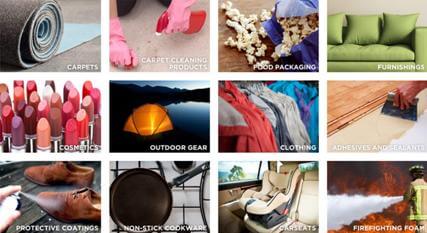 The proposed rule is unusually broad for TSCA. With the inclusion of small businesses, importers, and articles containing PFAS, the EPA expects to receive information from thousands of businesses that may never have interacted with TSCA before.
Our PFAS experts at the Green Science Policy Institute would like to raise awareness of this proposed reporting requirement, and to share practical advice with manufacturers. Although fulfilling the reporting obligations for the proposed rule will take time and effort, it represents a big step in the right direction in managing the human and environmental risks associated with all PFAS as a class.
For more information and tips on responding to this important new reporting rule, please read the full blog post.
Calendar
October 3-7, 2021: FLUOROS Global 2021: International Perspectives on PFAS Science
This multidisciplinary international conference is back in a hybrid (in-person and virtual) format. The meeting will cover the latest developments and scientific advances on PFAS and their adverse health impacts for humans and the environment. Learn more here.
October 4, 2021: 16th annual AltWheels Fleet Day
AltWheels is a nonprofit that seeks to build a "Sustainable Transportation and Energy Vision for the 21st Century." Fleet Day is a large annual meeting of corporate and municipal Fleet Managers discussing how to fuel the path forward with healthier and more sustainable transportation choices. Learn more and register for free for this years virtual fleet day here.
Oct 12, 2021 at 9am Pacific: Navigating the Demand for Antimicrobials in Building Products
Co-hosted by our Institute, mindful MATERIALS, and Healthy Building Network, green building experts and researchers will discuss the health and environmental concerns of unnecessary antimicrobials in building materials. This is especially timely as the COVID-19 pandemic has increased pressure on manufacturers to add antimicrobials to their products. Speakers from the healthcare sector and industry have been invited to present their take on this often confusing topic. Attendees will also be invited to submit their own questions for further discussion. Register here.
October 19, 2021 at 10am Pacific: Purchasing Fire-Safe Healthier Furniture: Great News & Concerns
This free webinar will update purchasers and designers in healthcare, government, private business, hospitality, and education on changes in furniture flammability standards. You will learn about the new regulations, new ways to identify and purchase healthier furniture, and concerning efforts that threaten our progress towards fire-safe and healthier interiors. You are invited to register here.
Receive Updates By Email
Subscribe to our monthly newsletter and get these updates delivered right to your inbox!