PFAS in Furniture Fabric: Do They Work?
All Risk, Little Reward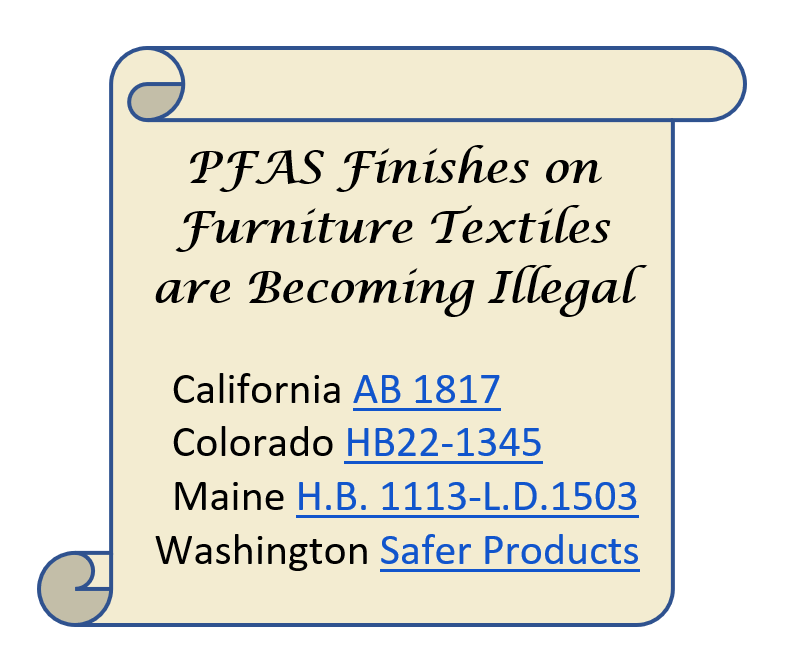 Whether you're in an airport, a hotel, a corporate office, or a college library, you want the furniture and wallcoverings to look clean and welcoming. Nobody likes to see stains.
For decades, fabric finishes based on PFAS have been used on textiles to try to repel liquids and prevent staining. But how well do they actually work? And given the proven harm of PFAS to human and ecosystem health, is it worth the risk?
Institutional textile users have reported that spills on PFAS treated fabrics had to be wiped up immediately to prevent staining, and that treatments lost effectiveness with wear, requiring frequent reapplication.
Based on these reports, scientists at the Green Science Policy Institute, in collaboration with industry and academic colleagues, set out to determine how effective PFAS were under real world conditions (see our study: Evaluating the Performance of Per- and Polyfluoroalkyl Substance Finishes on Upholstery Fabrics, AATCC 2023).
Here's what we did: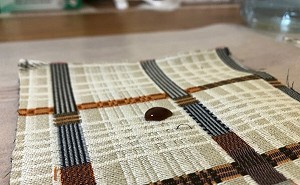 The stain performance and liquid repellency of unfinished commercial indoor fabrics were compared to fabrics treated with PFAS.
Staining was measured using coffee and oil-based salad dressings, under conditions in which they sat (for long or short durations) or were pressed into the fabric, which was either unabraded or abraded to simulate wear.
Liquid repellency was measured using water and olive oil on the treated and untreated fabrics in either abraded or unabraded conditions.
Here's what we found:
Fabric Choice Matters More than a PFAS Finish
Our stain findings showed that the most important factor in reducing stain visibility was fabric choice. PFAS finish made no difference in water-based coffee stains and had a minimal effect on oil-based vinaigrette stains (only under ideal conditions - when the finish was unabraded, stains were set gently on the fabric, and cleaned quickly). According to co-author Betsy Phillips of Maharam, "promptly cleaning up spills is the best way to prevent staining. When significant staining is expected due to the amount of food or drink permitted in a space, choosing darker textiles with visual texture can help mask stains."
PFAS Finishes Wear Off
Our liquid repellency findings showed that the PFAS finishes wore off after moderate abrasion. Like lipstick or car wax, PFAS must be reapplied to be effective, which introduces more PFAS into the environment and increases the risk of human exposure.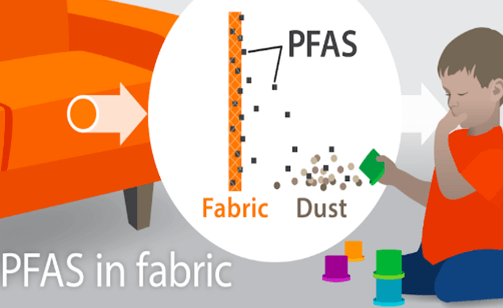 How can you reduce the use of PFAS?
Purchasers and Designers:
Don't require PFAS stain-repellency treatments for contract textiles, and don't use sprays or other aftermarket treatments.
Ask textile manufacturers for products without PFAS-based finishes, or select untreated fabrics that inherently hide staining or are made from fibers that are easier to clean.
Use textiles and patterns that hide stains.
Educate clients and suppliers by sharing the results of this study.
Manufacturers:
Phase out PFAS-based treatments you are currently using.
Promote PFAS-free alternatives that provide good stain performance.
Educate customers about how to select fabrics for different uses, and the importance of proper fabric cleaning for best performance.
Stay informed about PFAS regulations that will impact your markets.
Chemical Treatment Suppliers:
Provide PFAS-free alternative treatments that have full Chemical Hazard Assessments showing that they will not harm the environment or human health.
Facilities Managers:
Don't use PFAS-based stain repellency treatments.
Clean up spills promptly according to textile manufacturers' recommendations. Be sure to use PFAS-free cleaning products (look for Green Seal or Safer Choice Certified)
Regulators:
Regulate all PFAS to avoid regrettable substitution with another harmful PFAS.
Align language and requirements with existing state bills restricting PFAS in textiles.