Responsible Disposal
Once flame retardants are added to foam or plastic, disposing of products containing these materials becomes problematic
For nearly 40 years, flame retardant chemicals were needed in furniture cushion foam to comply with the 1975 California flammability standard TB 117. The standard was revised in 2014 so that new furniture has increased fire safety without the need for flame retardant chemicals.
Unfortunately, furniture manufactured before 2015 can be a source of continued exposure to flame retardants, especially for low-income and student communities. The typical couch has up to three owners, each keeping the furniture for an average of 10 to 15 years.
Once you create toxic molecules like flame retardants and PFAS and they escape into the environment, you must track them down and destroy them.

– Scott Smithline, Former Director, CalRecycle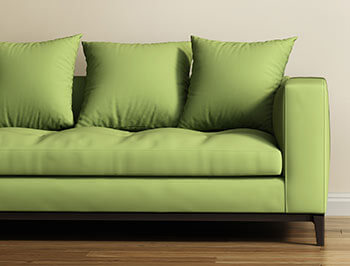 How can I responsibly replace my furniture?
Most new furniture does not contain flame retardants. If you still love your old couch, you can swap out the foam for new filling without flame retardants.
What is the problem with reselling or recycling my furniture?
The reselling or recycling of products containing flame retardants causes ongoing hazards for people, workers, and the environment. Exposure to some flame retardants is associated with endocrine disruption, neurological and reproductive harm, and cancer.
It is difficult to dispose of flame retardant-containing furniture safely. Such foam should not be recycled into other products (e.g., carpet pads) due to the potential for exposure of downstream users. Incineration of halogenated flame retardants can produce highly toxic halogenated dioxins and furans. Currently, the best option is to landfill old flame-retarded foam. However, care must be taken to prevent leaching of flame retardants from landfilled furniture into water.
Our Institute hosted three interdisciplinary workshops in 2016 and 2017 to identify research and policy priorities for more responsible end-of-life management of foams and plastics containing flame retardants. Our resulting review can help inform scientific research and policy decisions.
The two peer-reviewed publications below discuss issues associated with the use and responsible disposal of plastics and foams containing flame retardants. We identified basic and applied research needs in the areas of responsible collection, pre-treatment, processing, and management of these wastes. These papers appear in the journal Environmental Engineering Science.