PFAS in Outdoor Gear
California and New York laws ban the use of PFAS in most textiles by 2025. Here are resources to help the outdoor industry produce better products without PFAS.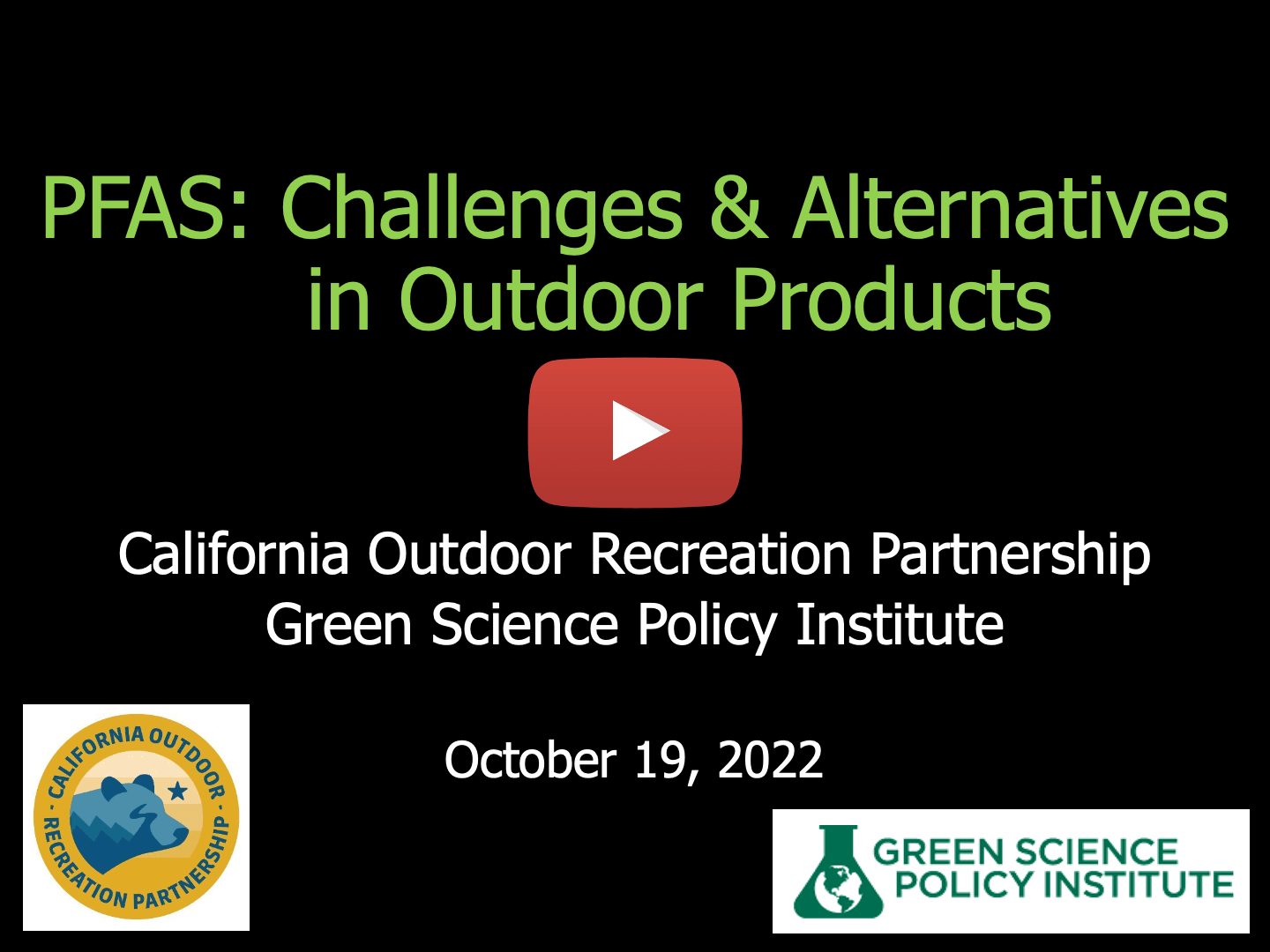 Due to their extreme persistence and potential for health and environmental harm, the PFAS in stain- and water-resistant textiles are being phased out. View a webinar here co-hosted by the California Outdoor Recreation Partnership and the Green Science Policy Institute to help you stop the use of PFAS in your outdoor products. Speakers include outdoor leaders, innovators, and the author of the California legislation.
Check out slides on the basics of PFAS, the current regulatory landscape, and a path forward towards reducing their use while maintaining quality products. These talks were presented during a recent participatory meeting with a dozen outdoor retailers including Columbia, Nike, and Patagonia, as well as others along the supply chain, scientists, innovators of safer alternatives, and government & NGO representatives.
Recent Textiles Legislation
Do you offer PFAS-free products?
Our webpage lists brands with PFAS-free products in outdoor gear, cosmetics, foodware, etc. Thousands of consumers looking for better products visit this page every month. To learn about being listed, view our eligibility criteria. Outdoor gear brands can find suppliers of PFAS-free DWRs and textiles such as Dimpora & Green Theme Technologies.

Need help phasing out PFAS in your products?
Certifying and Trade Organizations
Click the "plus" button to the left of each entry to learn more.
Giving up PFAS could be a small, temporary step backward for some of your products, but a big step forward for the health of our population and planet.

– Matthias Foessel, Beyond Surface Technologies

Consultants & Legal Advice:
Amanda Cattermole, Cattermole Consulting Inc. can help identify where PFAS are used, eliminate their use, and communicate your plans with stakeholders. Learn more from her brochure.
Todd Copeland, Copeland Consultancy, LLC offers supply chain mapping, chemical policy implementation, and designs programs to reduce environmental and chemical impacts in products, materials, & supply chains.
Chris Enlow, Futurescapes Consulting, LLC develops corporate responsibility and ESG strategies to drive long-range planning into actions and results in the non-profit and for-profit sectors.
James Pollack, Marten Law LLP provides legal advice to help brands comply with the growing patchwork of PFAS regulations and effectively communicate sustainability efforts with consumers.
Krystle Moody Wood, Materevolve, LLC helps develop PFAS-free alternatives and products, coaches leaders on chemical best practices, and builds high-level executive strategies.

We climbed Mount Everest without PFAS. Do we need it to walk our dogs or go birdwatching?

– Arlene Blum, Green Science Policy Institute

Safer Alternatives
Resources
Green papers & more:
Peer-reviewed scientific literature:
Videos
PFAS in outdoor products webinar
Learn the basics about PFAS
PFAS as a class two minute video
Contact Lydia with other helpful resources to share.