PFAS in Cosmetics
PFAS are harmful and unnecessary ingredients in makeup
Our Institute's joint research found that PFAS were present, but mostly unlabeled, in popular makeup products. This has prompted widespread concern, as some PFAS have been associated with cancer, infertility, reduced vaccine effectiveness, and more. Because of the potential for harm, we're working with policymakers and cosmetics companies to stop the use of these chemicals in makeup and personal care products.
Our research
In collaboration with the University of Notre Dame, the University of Toronto, Indiana University, and ETH Zurich, we tested 231 popular makeup products purchased in the U.S. and Canada. We found high fluorine levels—indicating the probable presence of PFAS—in just over half of these products. High levels were especially prevalent in waterproof mascara, liquid lipsticks, and foundations. Some of the products with the highest fluorine levels underwent further analysis and were all confirmed to contain at least four PFAS of concern. The majority of products with high fluorine, including those confirmed to have PFAS, had no PFAS listed on the label.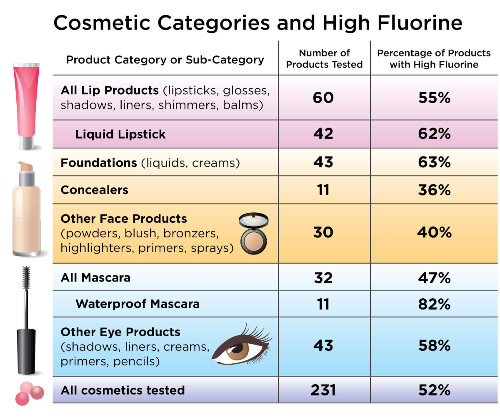 The study, published in the peer-reviewed journal Environmental Science & Technology Letters, was widely covered by the media, including Good Morning America, CNN, The Guardian, and The Washington Post.
Legislation
On June 15, 2021, the day our study was published, Sens. Susan Collins, Richard Blumenthal, Dianne Feinstein, Kirsten Gillibrand, Maggie Hassan, Angus King, and Jeanne Shaheen introduced the bipartisan No PFAS in Cosmetics Act telling the FDA to ban all PFAS from makeup and personal care products. Two days later, Reps. Debbie Dingell, Brian Fitzpatrick, Annie Kuster, and John Katko introduced the same bill in the House. Through a campaign led by Breast Cancer Action, consumers can urge their representatives to support the bill.
How manufacturers can remove PFAS from cosmetics
This document is intended for cosmetics companies who want to remove PFAS from their products. It outlines the steps necessary for identifying whether or not PFAS are present in their products, including analytical lab testing. Ultimately, cosmetics brands will need to work closely with the entirety of their supply chain to ensure no intentional or accidental PFAS are in their products. Green Science Policy is happy to answer any questions that manufacturers may have regarding these steps. After brands have successfully removed PFAS from all their products, they can contact us to be added to our PFAS-free products list.